Watch the full Freeride World Tour Finals 2018 replay and winning runs
© Marion Schmitz
See Markus Eder's epic freestyle run on the intimidatingly steep, unforgiving Bec des Rosses face, and get all the results, the winner's runs and the best photos.
With a very fickle weather forecast predicting only two very short weather windows in which to hold the competition before a warm foehn wind would take big parts of the snow out of the Bec des Rosses competition, both organisers and riders were under big pressure to perform on point at a moment's notice. But as always in the 23-year history of the Verbier Xtreme Freeride World Tour finals, things ran perfectly.
Watch the full replay of the Freeride World Tour 2018 Finals men's runs below.
Finals – Verbier, Switzerland
Ski men
With
Kristofer Turdell
having already claimed the FWT title with his result in the penultimate competition at the Fieberbrunn tour stop, but not competing in Verbier due to a knee injury, the male skiers were charging hard to fill the remaining top two overall podium spots and the Xtreme Verbier win.
Mickael Bimboes
was the man to beat with two massive airs and fast big mountain riding, which earned him his first win on the Bec des Rosses and a third place overall finish for the 2018 season. Rookie
Craig Murray
impressed judges and spectators with a creative and critical line that featured two big 360s, landing him in second place, while favourites like last year's winner
Reine Barkered
were unable to go full throttle due to flat light and strong winds blowing sluff upwards right into their faces. Arguably the most innovative run came from
Markus Eder
in his very first competition on this intimidating face.
With a committed line in the upper, most exposed part of central couloir, followed by a shifty and a 360, Eder pulled off a trick that had never been seen before in those steeps. Approaching the last cliff drop with a butter basically riding backwards, he placed a smooth landing and a clean run out. After stomping his daring freestyle run in this incredible big mountain setting, Eder was visibly shaken up:
After that last trick I had tears in my eyes riding down the last third of the run! [lifts up his sunglasses] I still do!
Watch Markus Eder's crazy freestyle run on Bec des Rosses – including the first-ever trick approaching the cliff with a butter basically backwards in this steep face.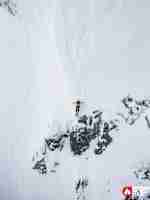 The only one who was understandably not 100 percent pumped on adrenaline was Overall Freeride World Tour Ski Winner Turdell: "Of course it feels really good to take home the title today," he said. "Luckily I already secured it before the finals, because I got injured after the tour stop in Austria. This title is something I worked for for three years, and that makes it even more special!"
I wish I could have been competing today! I love riding this face!
And much as securing the title before the finals was a first in the history of the Freeride World Tour, Turdell's comment was also the very first time that a rider has been heard stating his love for this 45-55 degree steep, rocky, unforgivable mountain.
Congrats to Eder and Turdell for this double win in the overall Freeride World Tour ski category!
Watch Mickael Bimboes' winning ski run.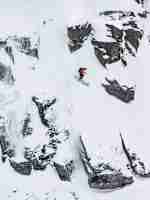 Mickael Bimboes' best run
Snowboard men
American snowboarder
Sammy Luebke
claimed an unprecedented third consecutive FWT title and a simultaneous Xtreme Verbier win. With one of the most committed lines of the season, right down the most exposed and steepest zone of the central couloir, adding huge cliff drops into a fast, fluid run, Luebke took a deserved win far ahead of the competition. Down at the arrival Luebke said: "I was in a position where I had to go for it [to take the overall win]. People like
Steve Klassen
and
Xavier De Le Rue
put it down before me in the central couloir with crazy lines, so it was time to get over there and do some big stuff." Elias Elhardt scored a surprise second place with a playful run in his first participation on the Bec des Rosses, while
Davey Baird
showed a steep and technical line in the middle part of the face.
Watch Sammy Luebke's winning snowboard run.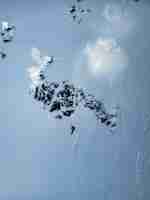 Be sure to download the free Red Bull TV app and catch the FWT action on all your devices!
Get the app here
Snowboard women
Last year's FWT overall snowboard champion
Marion Haerty
earned her first Xtreme Verbier win with a confident run, including a final air to close-out the season with a second place overall.
Anna Orlova
put the finishing touches on a great rookie season with the biggest air of the day in the women's snowboard category, while
Manuela Mandl
claimed her first career FWT title with fluid big mountain riding and multiple airs in steep terrain. "I'm really happy to be on the podium at Xtreme, but even more happy to take the world champion title since it was a tough day. I didn't want to risk it all so I went for a safety line, but next year I'm going to go huge!", Mandl said.
Ski women
With a strong run, Italian
Arianna Tricomi
claimed both the win at Verbier and the highly contested world title race. Veteran
Lorraine Huber
charged into a steep and technical line, stomping two big airs to earn a second place podium finish for the day and a third place finish overall, while Austrian compatriot
Eva Walkner
was snapping at her heels. But Walkner had some trouble cleanly sticking her top air despite stomping the biggest double drop of the day in the women's ski field. "I still need some time to realise that I won the whole tour, but winning on the Bec feels even better!" a stoked Tricomi said.
Freeride World Tour 2018 overall results
Freeride World Tour 2018 overall results – ski women
Freeride World Tour 2018 overall results – snowboard women
Freeride World Tour 2018 overall results – ski men
Freeride World Tour 2018 overall results – snowboard men
See the best images of the winners of the Freeride World Tour 2018 and the Xtreme Verbier 2018 below.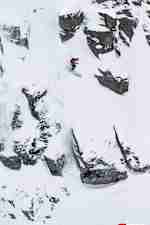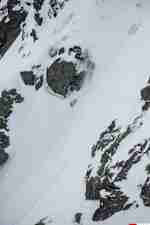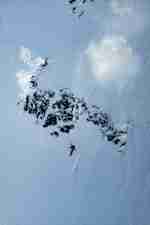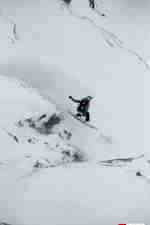 Xtreme Verbier 2018 Results:
And if you're curious about what those winning runs look like from rider's perspective, watch this space for the Best GoPro runs at the Freeride World Tour finals story, coming soon.