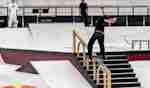 Even by the see-sawing standards of the road to this juncture in skateboarding's competitive history, this weekend's finals of the Street Skateboarding World Championships in Rome witnessed drama after drama.
With the entire competitive schedule erased over the last two summers, the pressure to finalise the world rankings all came down to these last two weekends, with huge opportunities to chop and change the leaderboard.
Aori Nishimura powered to first in the women's with a gap to frontside nosegrind which marks her out as the pace-setter going forward. The fact that both second and third places behind her were the terrifyingly talented 13 year olds Momiji Nishiya and Rayssa Leal suggests another quantum leap in the standard of that division is imminent.
In the men's finals an uncharacteristically off-tempo Yuto Horigome turned around two patchy early runs to drop a series of best trick hammers which are at the forefront of a new era in skateboarding ability and deservedly took the crown. Nyjah Huston demonstrated a lot of verve in recovering from an early best trick slam to stick a backside nollie heel flip to backside tailslide on the big rail which was enough for an unassailable second. Sora Shirai produced unprecedented magic in alley-oop backside ollie to fakie 5-0 on handrails, and
Jagger Eaton
pulled an ace card with his last hand in kickflipping into a backside 180 fakie nosegrind and keeping his summer dreams alive.
World Street Skateboarding Championships 2021 – Women's Results:
Roos Zwetsloot (retired injured)
World Street Skateboarding Championships 2021 – Men's Results:
Men's Semi-Finals, Saturday June 5: as it happened!
With one of the hugest of unforeseen ironies, the closeout events of the World Skate series both in Des Moines, USA, and in Rome, Italy, the weather – of all things – decided to try and play a card during the Street Skateboarding World Championships Mens's semi-finals.
First heat exhaustion was the concern, and then the staggering dangers of adding moisture to the knife-edge gambles of skateboarding at this level.
As is often the way of these things, however, the sun came smiling back out after an almost two-hour rain-check between heats 1 and 2 which could have thrown yet another twist into competitive skateboarding's long and winding road to this crucible.
There can be no denying the spread and depth of otherworldly skating talent on display at this level. Alex Midler was hitting frontside 270 ollie to backside lip slide over a six-foot driveway every time. Matt Berger landed a kick flip backside tail slide backside bigspin out on the huge box rail during the best trick segment, a trick of such unfeasible sequential control that sight alone is not enough to guide it.
It was of course to be expected that the standard and consistency of all 32 semi-finalists would surprise, but even within that context the ability to deliver video-ender tricks on demand really shows the era in which we live.
A heavier representation of Americans for tomorrow's final than in the female division, then, with first-place qualifier Nyjah Huston joined by both Jagger Eaton and relative newcomer Jake Ilardi. Unsurprisingly both Yuto Horigome and Sora Shirai will be representing Japan in the Final 8, with perhaps Kelvin Hoefler's sole Brazilian slot against two Canadian finalists being the surprise script flip going into Sunday.
Join us live for the finals of both divisions of the Street Skateboarding World Championships on Red Bull TV just be clicking this link or the player above!
Street Skateboarding World Championships: Men's Finalists
Relive the men's semi-finals right here!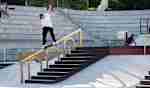 Find out who qualified for women's finals below!
In what was certainly a new benchmark for the overall standard in international women's competitive skateboarding, Friday's semi-final of the
Street Skateboarding World Championships
whittled down a truly global field of 32 girls to a final eight headed for Sunday's final showdown.
Watch the full replay of the women's semi-final below: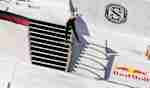 The first things that were apparent from Rome were just how lovely it is to see events in the sunshine again and how great it was to hear the echoing acoustics of music outdoors again.
As might have been expected, six of the final 8 rippers barged onto the leaderboard from the final heat of top qualifiers from Thursday's open contest. Mariah Duran exploded out of heat two from a shaky start to become the sole American finalist, even as Japan's Funa Nakayama set down such huge markers in the opening heat that she remained on the leaderboard despite 16 subsequent attempts from higher-placed qualifiers to unseat her.
Besides the Netherlands' super-impressive Roos Zwetloot and Mariah Duran from the US, the rest of the leaderboard going into Sunday's final is an even split between Brazil and Japan, as the rivalry between competitive skateboarding's two new powerhouses comes to a crescendo. See you then.
Street Skateboarding World Championships: Women's Finalists
Watch Street Skateboarding World Championships live from Rome this weekend
That's right! We are coming live from Rome all weekend to bring you the semi-finals and finals of both the women's and men's contests in one of the highest-stakes skate contests ever to go down in Europe!
Skaters from as far apart as Peru and the Philippines are already isolating in Rome ahead of the two 32-person semi-finals scheduled to go down this Friday and Saturday before Sunday's big finals in both men's and women's street.
With all podium places and points counting towards this summer's main event we are bringing you every hammer worthy of the name from Friday right through to Sunday as the most important skate contest ever held in Italy pops off at the custom-built street course installed at Stadio Pietrangeli just for this event.
Watch all the action as it happens with us broadcasting live throughout the weekend:
Click the links on each to set your browser tabs or just swing by Red Bull TV over the weekend to witness
Jamie Foy
,
Ksenia Maricheva
,
Alex Midler
,
Jagger Eaton
,
Felipe Gustavo
,
Leticia Bufoni
,
Angelo Caro
,
Margie Didal
,
Ryan Decenzo
,
Matias Dell Olio
,
Lore Bruggeman
,
Maxim Habanec
,
Simon Stricker
and a host of other international trailblazers in what promises to be a skate comp for the ages!