How women made history in Speed & Style at Crankworx
© Stefan Voitl/Red Bull Content Pool
Last week Crankworx debuted a women's category in the Speed & Style event, giving female riders the ability to showcase their skills and push development within the sport.
Crankworx as an organisation has always looked to be more inclusive of female athletes from the early beginnings of the festival series in Whistler. Twelve years ago, Crankworx hosted Womenzworx – a series of judged freeride events that included some of the famous Boneyard features.
In 2015 the event again focused on elevating the female athletes participating in their events by awarding equal prize money for men and women and creating side-by-side podiums. And in 2018 they introduced the women's Jump Jam contest.
Last week they took another important step for the consistent growth and development of women in freeride mountain biking by hosting the very first women's Speed & Style contest and allowing participation in a resurrected Best Trick competition.
"The ultimate goal is to have women competing in Slopestyle at Crankworx one day.," says Crankworx's Darren Kinnaird.
2019 has been a big year for women in slopestyle with the industry introducing the
Women's Slopestyle Tour
(WST) partnership with the Freeride Mountain Bike Association (FMBA). Female riders now accrue points when competing in the WST events and are officially ranked on the FMB World Tour.
The Clif Speed & Style at Crankworx Whistler was an invitational competition and organisers looked to WST events; the Little Big Festival, Sugar Showdown and Big White as well as events organised in and around Whistler for athletes to include for its competition. The final list of 14 athletes included three women who've done more than most to push women's freeride mountain biking into the public consciousness. They are versatile
Casey Brown
, veteran
Stephanie Nychka
and relative newcomer
Vero Sandler
. Before we see how the Speed & Style contest played out in Crankworx, we profile them below:
1. Casey Brown: the whip-off champ with Rampage goals
In the last decade we've seen Casey Brown forge a career across multiple disciplines in the bike industry. From her break-out year in 2011, when she finished second at the downhill Canadian Championships, to being crowned Queen of Crankworx in 2014, before changing focus to racing in the Enduro World Series (EWS) in 2016 and then announcing her freeride goals just last year – Brown has excelled in every ring she's thrown her hat into.
Rampage beckons for her next as she attempts to secure a qualifying spot at the Proving Grounds event in Bend, Oregon on the weekend of September 6-7.
Check out more about Brown's story on how she became a mountain bike pro below: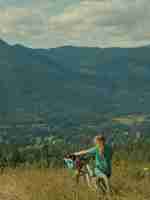 Watch Casey Brown's amazing rise to mountain biking star
2. Stephanie Nychka: the slopestyle advocate and veteran
Stephanie Nychka, currently ranked first in the WST, has been a force to be reckoned with over the last two decades. She discovered her passion for mountain biking through the roots of freeride and downhill racing. Slopestyle's in her blood. Back in 2008 she took a second place at Womenzworx.
In the last 10 years Stephanie's been a strong voice for female inclusion in the sport of slopestyle, being present and heavily involved at events created to support development in this side of the sport. In a statement released by Nychka in April this year about the partnership between WST and FMBA, she wrote, "We are dedicated to building the foundation for female mountain bike competition, supporting riders, and cultivating an elite class of athletes who are deserving of industry recognition."
In addition to her advocacy work behind the scenes, Nychka has yet to stop pushing herself on the bike. After purchasing a BMX from a 12-year-old kid online, Stephanie announced this past September that she's pursuing a goal of competing at the 2020 Olympics in the new BMX Freestyle event.
3. Veronique Sandler: the new kid who's proven her worth
Just last year Veronique Sandler still considered dirt jumping to be her weakness, but at the end of July her movie
Vision was released
and has proven her to be one of the leading women in slopestyle.
"For me personally, raising the bar for women in action sport is not about separation, it's about earning our place alongside the best in the game," Sandler wrote with the release of her movie. "Whilst women's specific events and projects have a place in the industry to drive accessibility and encourage participation, it's important to me to drive inclusivity at the top of our sport and earn our equal place through skill, passion and determination, both on the bike and with a shovel in hand."
Watch below to see Sandler fly down Welsh trails in an episode of our Sound of Speed series: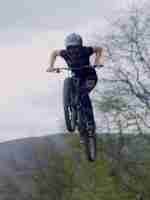 Originally from New Zealand, this former World Cup racer now lives in the UK and has harnessed the power of social media to develop a riding career where there was previously no platform for women to do so.
What happened at Speed & Style?
The event was slightly delayed by windy conditions, but when it got underway nine women took to dropping in. As opposed to the men's event, each competitor dropped on to the course individually rather than a head-to-head competition. The women took two runs with the best of those runs counting as their time for the event.
American racer
Jordy Scott
emerged as the winner with Casey Brown coming second. Scott took the win with a time difference of +0.61s over Brown.
Joey Gough
of Great Britain rounded off the podium by placing third.
Stephanie Nychka won the women's Best Trick award in a competition held at the same time as the men's event.