© Daan Verhoeven
See Stig Pryds perfectly combine yoga and freediving
As if freediving wasn't challenging enough, watch this guy do it in the Lotus position.
Stig Pryds occupies an interesting position in the realm of freediving. For most people, descending to 70m, 80m or 90m underwater is life-threatening. For Pryds, it's the only way he can live. The Dane suffered from psoriatic arthritis for much of his life, but he's found that the best way to reduce his pain isn't medical drugs but pressure – the kind that only comes when you're deep underwater.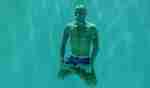 Watch Stig Pryds do yoga while freediving
Be sure to download the free Red Bull TV app and catch the action on all your devices!
Get the app here
So what about the dive in the video on this page? Well, it's probably a world record – if only because no one's ever attempted to do a proper deep dive whilst holding the Lotus yoga position, even if this was just a couple of friends having fun. "It was actually [photographer] Daan Verhoeven's idea," says Pryds. "He just asked, 'Can you do a Lotus and sink to the bottom of the tank?' I told him I didn't know."
It's appropriate, considering that yoga is one of the other things that Pryds says changed his life. While he can't deep-dive frequently near his home in Denmark, he practises hot yoga up to four times a week, which keeps him limber, strong and ready for action when the freediving contest season gets underway.
So what was different about the yoga dive? Nothing, and everything. "It was quite fun," says Pryds. "I just closed my eyes, kind of floating in the water. I've dived head first so many times, so this was a change."
He didn't know how fast he'd sink or even where he was in the water at all, but all in all it was a process he's familiar with. "The pressure gets greater and greater, and it's a very intense feeling," he says. "Every sense is heightened, but you're relaxed at the same time."
This dive took place in Nemo 33, a diving training centre in Belgium. It's close, warm (33ºC thanks to a solar-powered heating system) and convenient, but not somewhere Pryds spends a lot of time. For the cost of a couple days at the pool, he can fly to Egypt for a week, where he can dive much deeper in real-world conditions.
He's heading there twice in the next couple of months for training. "My training blocks start shallow. Frequent 40m, 50m and 60m dives for a few days, and then 70m, 80m, 90m and 100m," he explains. "After a week or 10 days I should be diving 90–100m, but then I only do one dive a day. It's just three or four minutes a day in the water." For Pryds, that's when the magic happens, though. "When I'm in the water, it's total pain release. If I dive to 90m three days in a row, the pain is totally gone – sometimes for a whole week.