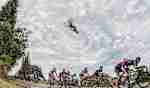 Szymon Godziek flips over the Tour de Pologne
Polish mountain-bike slopestyle rider
Szymon Godziek
swapped his MTB for a road bike to take part in the Tour de Pologne race today. However, Godziek wasn't there to race alongside the global stars of professional road cycling. Instead, he took to the air to perform a backflip over the main body of the race, shortly after it began its final stage in Bukowina Tatrzańska, Poland.
Watch the clip of this incredible feat in the video player above.
Godziek's backflip stands out from previous attempts to perform stunts over a road-cycling peloton, which have so far only been done on mountain bikes. A backflip is a standard trick in the repertoire of any dirt-jumping athlete, but landing it on a road bike posed challenges.
"The difference between my dirt bike and a road bike is huge. The tyres are thin, the handlebars are much narrower, the frame geometry is totally different and, of course, the weight – a road bike is much lighter and acts differently in mid-air," he explained after the successful attempt.
"For me, the biggest challenge was to get familiar with the specifics of riding on that kind of bike. I had practised the jump itself numerous times, so it wasn't difficult for me, and I felt great on the road bike."
Godziek looked the part as well, swapping his normal freeriding MTB gear for the lycra look favoured by the world of professional road cycling.
Preparations for the trick took place with permission of the Tour de Pologne organisers and involved the build of a kicker and landing site that would see Godziek travel a distance of 9m. Precise measurements and calculations ensured maximum safety for the jump.
The fact that I was the first one in the world to perform a jump like that means a lot to me. I'm glad that it happened in Poland at the final stage of the Tour de Pologne
Watch different POV perspectives of the backfip attempt from the GoPro cameras on Szymon Godziek's road bike.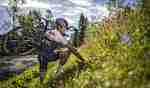 Szymon Godziek Tour de Pologne Backflip GoPro
Jumping over well-known road cycling races isn't new.
Dave Watson jumped over the Tour de France
in his famous video series New World Disorder in 2003, but unfortunately didn't manage to hold the position while landing. In 2013,
Romain Marandet
did the same thing over the Tour de France peloton on a downhill bike.
Godziek's attempt, however, is a world first as it involves riding a road bike and, unlike Watson and Marandet's attempts, he didn't just jump over the peloton.