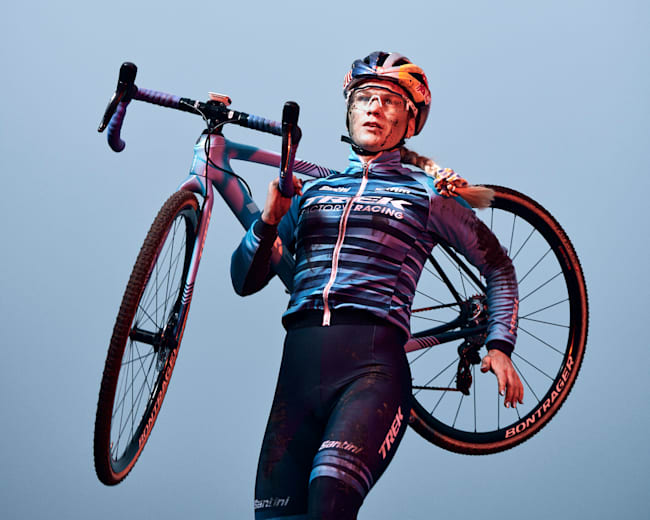 Why cyclo-cross phenom Evie Richards slowed down to find enduring success
© Shamil Tanna
Pushing limits, facing pain, getting back in the saddle: it all comes naturally to cyclo-cross and cross-country star Evie Richards.
Published on
The Red Bulletin
But, to find enduring success, the two-time world champion had to learn how to slow down.
It's a bright, clear January day in the small Dutch village of Hoogerheide – a time when no one's yet heard the phrase 'social distancing' – and
Evie Richards
isn't happy to see the sunshine.
The 23-year-old British cyclist is gridded in the third row for the final event of the Cyclo-cross World Cup series, behind 16 other riders who are all tensely waiting for the start light. Thousands of spectators line the barriers that snake around the route, through trees, round sharp bends, down rutted descents and, at one point, up a long, steep flight of stairs. This is where competitors throw their bike over their shoulder and sprint up on foot: the signature image of cyclo-cross, a sport that combines some of the more chaotic elements of mountain biking with stretches of racing on flat concrete.
Many of the top competitors in the Elite Women's category have road-racing backgrounds, giving them an advantage when the terrain is dry and smooth. But Richards' primary discipline is cross-country mountain biking, which means she wakes up on race days hoping to hear rain against her window.
Bad weather lets her show off her strengths, like sliding around hairpin turns in the mud as she battles for position with a scrum of other riders. On the day of the Hoogerheide World Cup, the early-morning mist has burnt off by the time riders from around the world are warming up on metal rollers outside their caravans and the air is crisp. Perfect for the thousands of spectators who have congregated, if not ideal for Richards.
Cyclo-cross
is still fairly niche in the UK. For Richards, it's an opportunity to keep training and competing through the winter so she's on top form for the MTB season in the warmer months. But here, around 5km from the Belgian-Dutch border, we're in cyclo-cross' heartland.
The wide appeal of the sport is evident as Richards and her competitors find their spots on the start grid; there are kids holding signs and running up to their favourite riders for autographs, older couples wrapped up against the chill and one gaggle of drunk fans wearing matching rainbow-striped suits. A brass band is performing in fluorescent orange hi-vis jackets (one of the group wears a white top hat decorated with a rainbow flag), the scent of frying onions and bratwurst hangs in the air and stallholders sell pictures of competitors, as well as scarves bearing their names.
A hush drops over all this activity as the 30-second warning is called, and in Richards' ears the '80s pop that was blaring from speakers around the course is replaced by the sound of her heartbeat. Richards' long blonde hair is tied back in a plait beneath her helmet, and – as at every race – she's glamorously made-up, with nails painted sparkly silver and long, dark mascaraed lashes. She's usually a blur of smiley, chatty motion, putting everyone around her at ease, but as the riders wait tensely for the start light, her normally expressive face becomes still, her eyes fixed and alert. Beneath her jersey, she wears a necklace given to her by her mother, reminding her to pace herself. It says, 'Easy, tiger.'
Putting in the effort, wanting it, persevering in the face of exhaustion and pain: these things aren't in question for Richards, who grew up in the shadow of the Malvern Hills, with a sports fanatic for a dad. Since at least the age of 11 she has been determined to compete in the Olympics and her family have a ritual of watching them together, in their entirety, every four years.
In 2008, she says, "I couldn't even watch it all, because I so badly wanted to be part of it. I just started every sport possible, in the hope that one of them would take me there."
This single-mindedness had its downsides. At school, Richards was a gifted runner, but "I couldn't always get myself to the start line, because I was so nervous. I skived nearly every sports day. I just couldn't deal with the pressure of losing". In her teens, she switched her focus from running to hockey, ascending quickly to County and then Regional level. But it was when she started cycling to her weekend job to improve her fitness that she found her calling: "I loved the fact that you could just leave your back door and go. I felt so free."
I skived nearly every sports day when I was at school. I just couldn't deal with the pressure of losing
By 16, she was competing in MTB races at weekends and realised this could be her best shot at a Team GB jersey. While Richards had found hockey stick skills tedious, she discovered she had the seemingly limitless ability to keep going in the face of exhaustion and discomfort. "A lot of people love the downhills, but I love riding uphill as fast as I can. That's always where I've got the adrenalin from, just pushing myself to the limit."
At 18, after impressive performances in national races for both mountain bike and 'cross, Richards won an academy spot on the Great Britain Cycling Team, moving to Manchester to focus full-time on developing her athletic career. Just a few months later, she took part in the Cyclo-cross Under-23 World Championships – and came first. "It was so insane," she says. "I hadn't thought about winning a World Championships before, because it was so early in my career. I shock myself a lot, and I probably shocked everyone who was watching that race."
World Champion
As a world champion, Richards continued to rack up medals – including gold – at national and international level in cyclo-cross and started getting on the podium at World Cup mountain-bike events, too. But it was getting harder to enjoy the successes. Her performance anxiety had returned, worse than ever. She would suffer "horrendous sickness in every mountain-bike race", sometimes throwing up more than 30 times during an hour-long event. There were events at which she actually passed out because, she says, "I physically had nothing inside me."
I loved that with cycling you could just leave your back door and go. I felt so free
Richards dealt with the anxiety by being even tougher on herself: she stuck to a regimented diet, didn't see friends or take holidays that weren't opportunities to ride, and trained every day, through every kind of weather, sickness or injury – and the injuries could be gruesome. She breezily mentions fracturing her collarbone as a junior, only to be back training on a stationary bike the next day, wearing a sling. More devastating still was a recurring knee injury that was triggered when she slipped on her bike on a cattle grid in 2017, at the age of 20. Her right leg fell through the bars and was sliced by shards of metal beneath, while her left was still attached to the bike, twisting badly enough to snap the pedal. "I was in so much pain, I cried on the floor for a bit. Then I brushed myself off and rode for another hour or two. Me being me, the next day I was back to normal training. I never thought about having time off."
The injured knee partially dislocated several times after this, and only a few days before a Cyclo-cross World Cup event in Namur, Belgium, in December 2017, just as she was walking out to meet other cyclists for a training ride, it gave way. "I just hit the ground screaming. It was horrendous. I was in so much pain. I remember being in the van crying the whole way back, knowing I wouldn't be able to race. I was in so much agony."
The next day, she tentatively tried to ride on her stationary bike and managed a two-hour session. The day after that, following a three-hour ride, she began to think she might give it a go and compete in the World Cup race after all. "I went from being in tears and looking at flights home to being like, 'No, I can do this. It's not going to stop me.'" Richards had never raced a World Cup in the Elite category before, was gridded "dead last", and had no idea if her knee would hold up. "There were so many things against me." But she shocked herself again: she won.
It was a dream result, but Richards couldn't go on indefinitely without learning how to rein in some of her energy. In December 2018, her body forced her to slow down when her knee fully dislocated and she had surgery a few weeks later. Having refused to ever take a day off from riding, she was told she couldn't get on the bike – or run, or do any of the activities she'd structured most of her life around – for five months.
With her childhood dream of the Olympics hovering on the horizon, this was a catastrophe for Richards. But resilience is her superpower and she refused to crumble. "I don't like regretting things," she says. "I could have just been miserable and hated life, but I tried to view it as a time I could see my friends from home, or get really into swimming." She now sees it "as a really valuable time. I really embraced the challenge, and I learnt so much from it. It's probably the best thing that ever happened to me".
On top of a mountain, looking down, you're in your own little bubble. It helps put things into perspective
True to form, Richards was back racing a month earlier than predicted and 2019 was one of her best seasons yet on the mountain bike. She finished third overall in the U23 World Cup series and at the last event of the season she won gold. Now, she says she's had "the best winter I've ever had from a training point of view", and her knee, while not quite back to normal, is the best it has been since the initial injury.
Richards was also getting stronger mentally. She had been working with a sports psychologist for the previous 18 months and hadn't been sick on race day since. She'd learnt to talk through her fears before major competitions and to avoid her tendency to eliminate any pleasure or comfort that isn't beneficial to her athletic performance. Her strategy as she went into that race in the Netherlands, she says, was "training hard, but not missing out on life".
All the same, the atmosphere was tense in Hoogerheide as the start light flashed and spectators drummed eagerly on the barriers lining the route. During the first lap, Richards overtook almost a dozen riders on a steep descent, carving out a different line from the rest and was soon in the tight group of five leading the pack. She pushed out ahead for almost one whole exhilarating lap, but couldn't keep the momentum going. In the end – and with the extra drama of the rider in first crashing to the ground just moments from the finish – Richards came in fifth.
Richards may not have made it to the podium, but she was happy with how it went on that January day. She knew other riders had been organising their schedules around these events, tapering off their training to be fresh for race day and doing 'cross-specific training. Her primary focus back then was the upcoming mountain-bike season and specifically the single Team GB spot reserved for a woman rider at the 2020 Games, which was due to be announced in May. Annie Last, who represented Britain at London 2012, was the most likely candidate for this spot, with Richards close behind.
Once the Cyclo-cross World Championships were wrapped up the following week in Switzerland, it was time for Richards to get back on the mountain bike for what was poised to be the toughest test of her nerve under pressure thus far. The mountain-bike season began in late February with the Super Cup Massi in Banyoles, Spain, which was stacked with the world's best riders looking to rack up points for the Olympics. Included in this line-up was Last, winner of the previous year's event.
Richards was gridded in the third row, again, for this race. She'd been close to tears the previous day as her anxiety threatened to return, and hearing about her competitors' winter schedules had made her doubt her decision to keep training at home rather than jetting off to some world-renowned spot. But as soon as the race started, Richards says, "I was calm and confident and strong. It was the first time I felt like that, ever." She ended up crossing the finish line safely in first place, offering the first real proof that her new outlook on racing has made her a stronger competitor. It was a perfect start to the season.
But then came the COVID-19 pandemic, which led to the cancellation of event after event, and it was announced that the Olympics would be pushed back to 2021. At an earlier stage in her development, this yanking away of an opportunity that Richards had been planning for more than half of her life would have been hard to bear. But she's learnt a lot in the last few years about patience and taking the long view. Now, she says, "I don't feel like I've wasted a year. I've enjoyed so much of it."
Since the UK went into lockdown, Richards has converted her garage into a home gym, with equipment provided by Red Bull. And she has still been able to go on the same local training rides – alone and with her dad – that she has always relished. "I love being on a mountain, looking down," she says. "You're at the top of the world, in your own little bubble. That time in the quiet helps put things into perspective. It brings me so much joy."
The challenge this year, as always, will be pacing herself – the message behind the "Easy, tiger" necklace she wore in Hoogerheide. "I don't think races will start again until September, and if you go full gas for four months, you're going to dip. I've had to not be as frantic."
Richards says that the extra time she now has before the Olympic selection decision is made "can only benefit me". While in previous years she has always had an extra battle to contend with – school, rehabbing her knee, performance anxiety – she can now achieve her full potential unfettered. And she's still only 23. "I'm in a great place," Richards says. "And I feel like I'm only getting better."