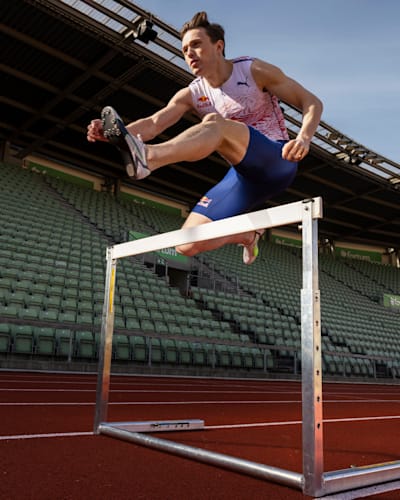 © Sandro Baebler
Karsten Warholm's greatest hurdle
Three-quarters of a second: that's all it took for 400m hurdler Karsten Warholm to redefine the cutting edge of 
human athleticism. But where does he go next?
Taking gold at the Games in Tokyo introduced
Karsten Warholm
to a global audience. But, almost a year 
on from a performance in the 400m hurdles so explosive it shattered the world record and earned him the title of 2021 Male World Athlete of the Year at the World Athletics Awards, he says it could have gone better.
"It was a bit embarrassing, actually – it took me two goes to rip my top," the 26-year-old Norwegian recalls of his impulsive, chest-exposing victory celebration, beamed to viewers across the world. "There I was, trying to be Superman, and I couldn't even tear my own costume."
Warholm is speaking to The Red Bulletin in the bowels of the fabled Bislett Stadium in Norway's capital, Oslo. The venue is steeped in athletics history, and its running circuit is nicknamed the 'world record track' for good reason: it has routinely played host to some of the greatest middle-distance races in an annual competition known as the 'Dream Mile'.
Here, in 1980, British runner Steve Ovett broke the world record for the mile; fellow Brit Steve Cram followed suit in 1985, setting a global best that would stand for eight years. In 1990, Czech athlete Jan Zelezny cleared the javelin world record by such a distance he almost sent it flying into the crowd. And in July 2021, at the Bislett Games, Warholm beat US hurdler Kevin Young's 400m world record of 46.78 seconds, shaving 0.08 seconds off a benchmark that had held for 29 years. Warholm's record would not last so long: just 33 days later, in Tokyo, he obliterated it himself.
Even before the gun had sounded on that sun-drenched afternoon of August 3, 2021, in the Japan National Stadium, there was a sense that something special was eminently possible. It was unarguably the greatest field of 400m hurdlers ever assembled, with the world champion (Warholm) lining up alongside the US champion (Rai Benjamin) and the South American champion (Alison dos Santos of Brazil) – three of the four fastest competitors of all time (the fourth being previous record holder Young). Add Commonwealth champion Kyron McMaster of the British Virgin Islands and the race had all the ingredients to deliver one of the greatest athletics finals over any distance in Olympic history.
One of Warholm's final acts before the race started was to slap his thighs in a manner that suggested he was ready. Benjamin, his great rival, looked on impassively. What happened next exceeded even the wildest predictions, as the Norwegian broke the 46-second barrier to claim gold with a time of 45.94s – 0.76 seconds quicker than his previous record – leaving athletic convention scattered in tiny pieces all over the stadium, which, regrettably, was almost entirely empty as a result of the pandemic. Benjamin and Dos Santos, in second and third respectively, both recorded times that would have been the quickest in history just five weeks earlier.
"That was something else, wasn't it?" smiles Warholm. "I was looking at the clock, thinking, 'This must be wrong.' But if you watch the race back, it almost looks like it's in fast forward. If you compare it to other races, it just looks quicker.
"I think a number of factors were in play. First, it's the competition and tension of the Olympics. But it was also warm and it's a good track, a fast track. When you get to the finish line, you know if it's been a good race – that's the same whether it's the Olympics or any other meeting. I knew it had been a good race, but I didn't know it was going to be sub-46 seconds, because that's crazy. That just doesn't happen."
I ran my first race aged six, in jeans and an oversized T-shirt, but I won.
He's not wrong. It's worth remembering that until 1948 no athlete had run 400m in less than 46 seconds, even without the additional complication of hurdles. You could argue that, in athletics history, the only feats comparable to what Warholm achieved that day are US long-jumper Bob Beamon's leap of 8.90m at the 1968 Games in Mexico City – adding 55cm to the previous record – or Usain Bolt's incredible 9.58 seconds in the 100m at the 2009 World Championships in Berlin. The latter, which stands to this day, shed more than a tenth of a second off Bolt's previous record – the largest-ever gain in the 100m since electronic timing began. As a reminder, Warholm sliced more than three-quarters of a second off his world record.
The problem for the Norwegian is that he's set an impossibly high bar. Welsh former 110m hurdling world champion Colin Jackson stated afterwards that he was "pretty sure [Warholm's] world record will outlive me". He's 55. Warholm himself called it the closest he's ever come to "the perfect race". So, what's next? With back-to-back World and European Championships arriving this summer, the answer is… a reckoning.
It's a cold Saturday in April on the warm-up track snaking around Bislett's basement, and Warholm will soon be entering 'cold storage' – total isolation from the media and other distractions so he can focus on the impending challenges that could define his career. But, for now, a double-door entrance to the main outside track is ajar, allowing a cool Norwegian breeze to enter an area that's very much a home from home for the hurdler.
The two-lane 400m course – itself the brainchild of Warholm's coach and mentor, Leif Olav Alnes – appears to be a weekend magnet for men and women of all ages and abilities. Alongside the stretch of track occupied by Warholm and his coach today is a short sprint course where teenagers are being put through their paces. One is running while dragging an enormous weight; another, recovering from injury, is on a scooter, keeping pace with her teammates on two wheels.
All would doubtless love to be the next Warholm, but most are happy to just run past the famous athlete and let him go about his business. "People in Norway are pretty respectful," he says. "If I was out in Oslo, then sure, people would probably know who I was, but they wouldn't bother me."
I'm obsessed with excellence. How can you push the limits?
Warholm is an unlikely track icon. Born in the harbour town of Ulsteinvik on Hareidlandet, an island on Norway's west coast, his was a family with no great sporting pedigree. His father played football, but worked as an electrical engineer in the maritime industry. Warholm, it seems, ran himself into history almost entirely by accident.
"My friend took me to a race that was held around the town's houses," he says. "It was only something like 300m, and we were very young, probably six or seven. I ran in my jeans and an oversized T-shirt, but I won the race. That was probably the first time I had ever really run; it was the start of it all, I guess. But I was always quick and had a lot of guts. It was just fun. I loved it."
In many ways, nothing much has changed. If there's one thing that sets Warholm apart from everyone else on the track, it's that he looks like he's having the time of his life every time he runs; the motivation that dragged his younger self around in jeans and a T-shirt now powering him onto a different plane entirely.
"It's a passion for me," he says, "but not a passion for the 400m hurdles – it could be the 100m or the 800m. It's more about feeling motivated to get better at something, making the most of everything I've got. I never had parents pushing me. Yes, they made sure I went to training, but I was always driving myself. I'm obsessed with excellence. How can you push the limits?"
Despite all the attention he's attracted since hot-footing his way into athletic folklore, Warholm is as grounded an athlete as you're likely to meet. His mum is now his manager, and he speaks to Alnes every day. Warholm says that if his coach retired or walked away from the sport, then he would too, such is the strength of the bond that has carried him so far in such a short space of time.
Always ready with a one-liner, Alnes is as instantly recognisable as Warholm in their home country, not least because, in 2020, they both appeared in a local fly-on-the-wall TV series titled Karsten og Leif (Karsten and Leif). The show has become something of a cult hit, with the pair's antics shining a light on one of modern sport's great double acts. They share the same sense of humour and the burning desire to push the boundaries of what is possible. And, like his protégé, a smile is rarely far from the face of the diminutive and bespectacled mentor.
A former sprinter himself, Alnes previously coached Norwegian track stars such as Geir Moen, a European and World Indoor Champion in the mid-'90s. His athlete-coach relationship with Warholm is as close as any, but their partnership owes as much to chance and inclement weather as to athletic ability.
"A member of the Norwegian Athletics Association recommended that I go and have a chat with this young guy who was doing decathlon at the time, because he thought we'd be a perfect fit," recalls Alnes, sitting in one of the distinctive green seats in the Bislett stands as a succession of runners are put through their paces on the outdoor track. "I went to see him and his family and there was a terrible storm, delaying my plane, so I ended up staying the night. We spoke, and after a few minutes I felt we could do this.
"I want to do some boy's things before I die – some diving, shooting. When you're a professional coach, you don't get to do much of it. I was semi-retired, but I was looking for the last dance. Karsten said that if I could come two days a week, that would be fine. I said no. I told him that if he was going to do it, he was going to do it right."
Not for the last time in their near seven-year partnership, Alnes was proven correct. Within a year, a 20-year-old Warholm was competing in the 2016 Rio Games. In his first qualifying round, he beat the Norwegian 400m hurdles national record in a comparatively modest 48.49 seconds. In the semi-final, he finished fourth, missing out on a place in the final.
"When he started, he could only go over [the hurdles] with his left leg in front," says Alnes. "We designed a race where he only used that one. Now, we don't talk about one good foot and one bad foot, we talk about gold and silver. They're both good, but one is better."

By the time 2017 dawned, Warholm had only one medal colour on his mind. At London's Olympic Stadium, the Scandinavian saw off the challenge of Yasmani Copello of Turkey and the American Kerron Clement to claim his first World Championship gold. He celebrated by donning a Viking helmet on his victory lap before collapsing in the long-jump pit and asking a Reuters photographer to pinch him to ensure he wasn't dreaming. He kept his headgear on for his post-race interview, much to the delight of the assembled press. Warholm, it's clear, is not a man to celebrate his triumphs discreetly.
"I never plan how I celebrate, because I never take wins for granted," he says. "There are so many mixed emotions when you cross the finish line first: relief, happiness, euphoria... That's when you do these stupid things. When I crossed that finish line in Tokyo, I had so much energy that I needed to burn it off. It was pure joy."
Warholm's energy is infectious. Outside the Bislett Stadium, as the sun gets lower in the sky, the number of runners doing 400m circuits thins out as the temperature drops. But inside, the longer Warholm stays on the warm-up track, the greater the speeds of those aspiring to emulate him.
He climbs into the stands to have some pictures taken, surveying the stadium where he received such acclaim last summer. "That almost felt like destiny," he says. "We had this perfect scenario: Leif and I were dreaming about first beating the world record in front of a home crowd [at the Bislett Games in July], then we wanted to beat it in Monaco [Diamond League 2021, just over a week later], and then again in Tokyo [three weeks later]. It almost happened, but not quite." Warholm merely won in Monaco, setting a track-meet record. Two out of three ain't bad.
Having torn up the record books, he now faces the pressure of running just as fast every time he sets foot on a track – starting at the World Championships in Eugene, Oregon, USA, this July. There he will resume his rivalry – perhaps the greatest in any sport right now – with Rai Benjamin, son of former West Indies cricketer Winston Benjamin, and a man who, were it not for Warholm, would likely be hailed as one of the greatest hurdlers of all time.
I like the tension, the nerves... there's so much pressure on me to perform.
In that same race in Tokyo last year, Benjamin finished in 46.17 seconds – a staggering half a second faster than Warholm's 29-year-record shatterer from a month earlier, but merely second best in this race. The Wall Street Journal called Benjamin "the American who broke a world record and lost". At least for now, he's the warm-up act for the flying Norwegian.
"It's a friendly rivalry," says Warholm. "We don't speak that often – we live in different time zones, in different places – but there's a lot of respect there. We both compete at a level where we know how much it takes to be there, but we still want to beat each other. He's never beaten me – he's probably sick and tired of me, and I can understand why. Everybody wants to win. He's a great athlete and he's been giving me the hardest battles for medals. When he competes against me, I need to be on my toes. If not, I'll lose."
That's not a feeling Warholm has been familiar with for some time. And not one he's looking to reacquaint himself with, either in Oregon or at the European Championships in Munich in August. "I haven't lost a race since 2018," he ruminates, referencing his third-place finish at the Continental Cup in the Czech Republic in September of that year. "But people really do want to beat me now. This is the thing I have to fight with all the time."
In a sport where peaking at the right time is an art form, Warholm knows the margin for error is minuscule. "I don't think I'm necessarily that much faster than the other guys, but I make sure that I'm just as good as them," he says. He's also in an occupation where performance technology can serve up fractional advantages.
After Tokyo, Warholm commented on the current wave of 'super- spike' shoes worn by Nike athletes, which have soles that contain highly responsive, energy-returning Pebax foam. "If you put a trampoline [in the shoe] 
I think it's bullshit," he stated at the time. Notably, Benjamin is a Nike athlete. Today, Warholm – who wears Puma spikes that were co-developed by the Mercedes F1 team and don't feature Pebax – is a little more reserved. "I've probably said enough on this already," is all that he'll offer, although Alnes interjects, "It shouldn't be about how good your shoe is. If I had my way, the athletes would run with no shoes."
Warholm isn't losing sleep over the things he can't control. You might even say that he revels in 
it. "I like the tension, the nerves. I have to fight all these thoughts, because there's so much pressure 
on me to perform. But the good thing is that I'm the one applying the most pressure, I have the biggest expectations. So, when it's not working out, I'm disappointing myself the most.
"Then it comes down to the starting line and it's a question of who fucks it up and who doesn't. I look forward to being in my best shape and performing, because that's what I do. The day I don't look forward to performing against the best is probably the day that I won't be able to run the sort of times I run now. It will definitely be on in Eugene."
As Warholm begins packing his bag to leave the stadium, those around him joke about the mess he's created. He laughs, too. He laughs a lot. There's a sense of mischief that's almost the direct antithesis of his dedication to training. So, is it his mental strength or physical abilities that make Warholm the best in his field? Or is the answer a lot simpler?
"Einstein said something really smart once," says Alnes. "He said, 'If you can't explain something simply, are you sure you understand it well enough?'
"When I started, people told me that I didn't know 400m hurdles. I said, 'You don't need to, you just have to run one lap of the track fast.' Of course, the hurdles aren't going to make you any faster, so if you want to do it quickly you have to lose as little time as possible over the 10 obstacles." Simple.
Perhaps the biggest question for Warholm moving forward relates to that first point. Given his ability to run so fast between the hurdles, would it one day be possible for him to achieve something that no other athlete in history has managed – a World or Olympic title in both the 400m hurdles and the 400m flat? "That's a lot of lactic [acid]," he muses. "It's three rounds in each at a world-class level. I doubled up in the European champs in Berlin [in 2018] and it didn't go too well – the hurdles were OK, but I was hammered after that."
Competing back-to-back for four days, Warholm took gold in the 400m hurdles, but finished eighth and last in the 400m flat. "There's almost no break, and it's very tough for the body to handle," he admits, his aura of invulnerability momentarily shimmering. "If I decided to go with just the flat, that'd be more realistic. Also, when I've delivered the results that I have in 400m hurdles, it's difficult to live up to the same standards in another event. People expect that I can do 42 [seconds] in the 400m flat, but I can't. It's a different thing.
"What I've learned in my career, though, is that more things are possible than you believe."
Whatever happens, Warholm will only be around for us to enjoy for as long as his coach is, and while Alnes is spritely and effervescent, he turned 65 this January. "If he stops tomorrow, then I stop tomorrow," says Warholm. "I think it would be possible for us to push the limits for a long time, but when this thing is gone, the magic is gone, and then there's no point."
Not that Warholm needs all of his coach. Whenever Alnes says that he's off on holiday or doing any activity that could be remotely dangerous, the young hurdler always tells him to wear a helmet. "We only need his brain," says Warholm, before coach and athlete dissolve into laughter once again.
The magic is still alive, and long may it continue.