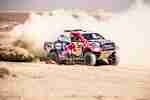 Why the Toyota Hilux is looking good for the 2020 Dakar
© Flavien Duhamel/Red Bull Content Pool
The regular Toyota Hilux is one of the toughest trucks around, but it's nothing compared to the Toyota Racing Gazoo Hilux that's set to take on the 2020 Dakar.
The Dakar is a race like no other, with the unique terrain putting incredible stress and strain on any vehicle that takes on the challenge. Toyota is more than capable of taking on that challenge, returning to the Dakar as defending champions after a win in 2019 with the Toyota Gazoo Racing Hilux. The mighty Hilux is back once again for the 2020 Dakar, and it would be a brave person who bets against yet another strong showing when the race kicks off in January.
So, what makes the Toyota Hilux so capable? Check out some of the stats and features below.
Category:
The Toyota Hilux will be competing in the car category at the 2020 Dakar, taking part in the Super Production (T1.1) class.
Power:
Nasser Al-Attiyah
's Toyota Hilux is no run-of-the-mill Toyota, with the big truck packing an impressive 5-litre V8 under the hood. The engine puts out 385bhp, which would be enough to make any regular Hilux a giggle to drive, but it's the huge 620Nm of torque that really makes the difference, giving the Hilux enough shove to overcome pretty much any obstacle in Al-Attiyah's way.
Dakar Decoded checks out the car category at the 2020 Dakar below...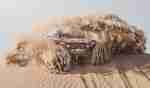 A look at the car category
Notable features:
It may look like a jacked-up Hilux, but the Toyota Gazoo Racing Hilux is no school-run soft roader, featuring plenty of trick parts, including fully independent suspension and a mid-mounted engine situated behind the centre line of the front wheels for better handling.
Fuel:
The Toyota Gazoo Racing Hilux runs on petrol. It may not be as fuel-efficient as the diesel powered Mini, but it counters with a lighter weight and more power, throwing up a surprisingly even battle.
Transmission:
True to the road-going Hilux, the Dakar Toyota also features four-wheel-drive, helping it to tackle even the most demanding terrain.
Chances of success:
Toyota are heading back to the Dakar as defending champions, with a vehicle that's made a name for itself as being one of the toughest machines on the planet. If you were heading out into the desert, and planning on hammering a car to within an inch of its life for two weeks straight, a Hilux would be a great place to start.