Duelling in the dust at Val di Sole practice
© Nathan Hughes
Check out the timed training action, photos and results from the final World Cup in Italy.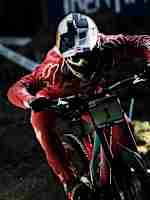 Practice highlights Val di Sole World Cup 2017
So nearly three weeks on from the dramatic racing in Mont-Sainte-Anne here we are in Val di Sole, Italy, for the finale of this World Cup season. The results in Canada means there is still all to play for in the race for the overall World Cup titles in both women's and men's competitions. The anticipation for Saturday's finals is almost palpable but for now it is the false dawn of practice and prepping for what promises to be the race of all seasons.
Watch all the action from practice and timed training above and scroll down for more...
It's been hot, hot, hot in Val di Sole and the course is currently dusty dry. Though the track's been smoothed out in a few places it is still the steepest, roughest, rockiest track of the year, and continues to take prisoners who don't show it the ultimate respect. Practice saw a slew of riders sliding out in the ankle deep dust.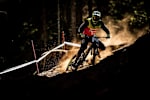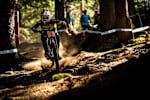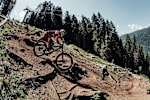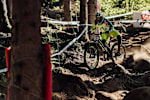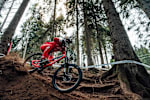 Current World Cup series leader
Greg Minnaar
was in race mode in timed training and set down a good marker that ultimately couldn't be bettered by anyone.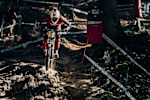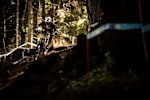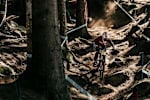 Aaron Gwin
, Minnaar's main title challenger for the overall, spent much of his practice and timed run sessions focussing on line choice, finishing way down in 57th place with a time nearly four mins down on Minnaar's best.
Loris Vergier
set the third fastest time with fellow Frenchman
Amaury Pierron
in fourth. Pierron has consistently put in fast timed training during the season but as yet not been able to take that into race day.
Troy Brosnan
was fifth. The Aussie knows that he has to win qualifying later today to stay in the hunt for the overall World Cup title.
Men's Timed Training results
| Place | Name | Time |
| --- | --- | --- |
| 1. | Greg Minnaar | 3:41.538 |
| 2. | Loïc Bruni | 3:44.666 |
| 3. | Loris Vergier | 3:44.886 |
| 4. | Amaury Pierron | 3:45.460 |
| 5. | Troy Brosnan | 3:46.111 |
Myriam dominates women's timed training
There was no case of taking it easy for current women's series leader
Myriam Nicole
during practice and then the timed training runs. The Frenchwoman topped timed training here with her run a full 15 seconds faster than the next best time of Italian
Eleonara Farina
.
Title challengers
Tracey Hannah
and
Tahnée Seagrave
were a bit more circumspect and used their timed training runs to test out lines and speed in different parts of the course. Seagrave crashed in practice in the morning but there was no lasting damage.
Emilie Siegenthaler
took third, followed by
Rachel Atherton
in fourth and Slovenia's
Monkia Hrastnik
in fifth.
Women's Timed Training results
| Place | Name | Time |
| --- | --- | --- |
| 1. | Myriam Nicole | 4:24.409 |
| 2. | Eleonora Farina | 4:39.148 |
| 3. | Emilie Siegenthaler | 4:39.198 |
| 4. | Rachel Atherton | 4:48.389 |
| 5. | Monika Hrastnik | 5:00.742 |