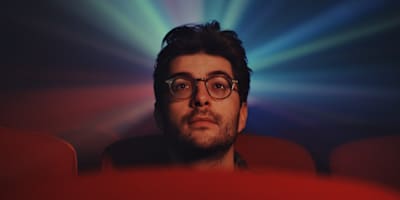 © Red Bull
Who is Ceb? Dota 2's glorious comeback king
A look back on the career, successes, retirement and comeback of one of the most iconic Dota 2 players of all time, Sébastien 'Ceb' Debs, in this all-new documentary.
In the world of team esports, how much of an impact can one man make? For fans of Dota 2 who have followed the incredible career of Sébastien 'Ceb' Debs, the answer would be hard to overstate. OG's beloved offlaner, the first two-time champion of The International and now, comeback king.
Few have managed to cultivate such legendary status in the esports community, but the name Ceb ushers in a sense of awed acknowledgement from across the profession. From a career that started all the way back in 2011, encompassing trials and tribulations that skyrocketed him and his team to esports fame over a decade, to his work developing OG's up-and-coming stars – Ceb's career is not easily defined by one single success.
Most recently, Ceb came out of retirement once again, stepping up to join OG's active roster after a stint away from the main stage. His name has been everywhere once again over the last year, but if you've missed any part of his epic story, this new documentary CEB: A Major Comeback goes into detail about the highs and lows of his colourful career.
Watch CEB: A Major Comeback below and read on to find out even more...

1 h 24 min
CEB: A Major Comeback
Dota 2 player Sébastien Debs returns from retirement to help his team win at an ESL One Stockholm Major.
So who is Ceb? Let's start at the beginning.
01
2011-2018: Early successes and Ceb's rise to OG
His early career started in 2011 with Team Shakira, where he played under the name 7ckingMad, before moving to Mortal Teamwork via a short stint at Western Wolves. It was at mTw that Ceb really shone, as the team were considered serious contenders for The International in 2012, beating their rivals NEXT.kz in the West Qualifier Finals. Unfortunately, as many young esports teams do, mTs collapsed, leaving Ceb to move back to a newly reformed Team Shakira once again.
A few name and roster changes later, Ceb's team had seen some thrilling wins and heartbreaking losses. Through various mergers, the team was DD.Dota for a while, then rose from the ashes to become Sigma, the team with which Ceb had the most early successes.
After leaving the team, and a small change in role – working as an analyst at the Major in Shanghai – he was hired as team coach for OG Esports. Suddenly, Ceb had found his confidence, and the world started to pay attention. His coaching and encouragement saw the team rise to incredible heights – dominating and winning at the Majors in Frankfurt, Manila, Boston and Kiev. Yet before The International in 2018, OG saw its roster turned upside down, with key players Gustav 's4' Magnusson and Tal 'Fly' Aizik departing, and suddenly a void had to be filled.
02
2018-2020: Successes with OG and an unbeatable The International performance
Despite completely stopping playing when he became a coach in 2016, Ceb took to his first official games during The International in 2018. Taking place in Vancouver, TI8 was at that time the largest esports tournament ever to take place, with a prize pool of over $25.3 million and people watching from all over the world. OG had started off shakily, coming in via Open Qualifiers, but went on to dominate over and over in the Main Event, taking on PSG.LGD in the Grand Finals and claiming their first in a two-year win streak.
TI9 broke its own record for being bigger than the year before, welcoming OG back with Ceb still in the offlane. As the team grew in confidence, with their most iconic lineup yet, they soon pushed their way to the top of their Group table, and once again took no prisoners in the Main Event. OG were the first and last team to ever win twice back-to-back at The International, and Ceb's participation made him feel like he could take on anything.
There was this one tournament where I woke up to the alarm and snoozed it, and then I'm like, wait a minute, what's happening to me?
Ceb's fire was burning bright, and his motivation was like a superpower, pushing him every day to be better, play more and try harder. It seemed to him like it might last forever, but there was a big announcement coming that would shock every OG fan to their core.
03
Calling time: Ceb decides to retire
When you've achieved your dreams – and then some – how do you keep the passion burning? Where do you go from there? Ceb's career so far had been blessed with an aggressive momentum, through both good and bad times, but this fast-moving train was beginning to slow. Not only had he achieved great success, but for a decade now, he had been playing the game he loves as a full-time job. Understandably, the sheen began to wear off a little and burnout came for him.
Ceb made it clear to his team and the public that he was not going to let his love for the game be reduced to something he did merely for a living. It was time to step down. In his own words, "there was a specific day that everything changed. Usually before a tournament, a big LAN, a Major or a TI, you know the best players are going to be there, so I would wake up two hours before the alarm and I'd have a really hard time going to sleep. My brain was non-stop.
"And then there was this one tournament where I woke up to the alarm and snoozed it, and then I'm like, wait a minute, what's happening to me? This feels so different. It isn't OK."
He also found it was eating away at his relationships, including with his long-term girlfriend, and inhibiting him from having a normal daily routine. For Ceb, the sacrifices he had made for Dota had gone on long enough. He released a statement through OG that he would be stepping back, his parting message reading: "We played as underdogs, played as favourites. We competed with the hunger and the fire of the uprising teams, and we competed with the confidence of the defending champions. It truly feels like we went through most of what competitive Dota had to offer."
04
A change in the air: Ceb gets "the itch"
Friend, colleague and confidante Johan 'N0tail' Sundstein had also retired from the professional esports arena, spending his time doing the things he had always wanted – surfing, gardening, paragliding – but noticed Ceb wasn't quite having the same experience. For all that professional Dota playing had taken up most of his time, there was a competitive element in his personality that just wasn't going away. He had what N0tail called "the itch" to get back into the arena.
By this time, his beloved OG was looking fairly different, with a five-player roster overhaul involving two 16-year-old prodigies. As the documentary shows, this new line-up was a big risk, initially causing some considerable unrest among fans.
We competed with the hunger and the fire of the uprising teams, and we competed with the confidence of the defending champions
After two years of pandemic shutdown, the Stockholm ESL Major in 2022 was to be the first and much anticipated live in-person event to break the streak. The new OG still had a lot to prove, and the stakes didn't get much higher than this for a LAN debut. Unfortunately, OG were subject to yet more change, with captain Mikhail 'Misha' Agatov and coach Evgenii 'Chuvash' Makarov unable to attend, leaving N0tail to take over as coach and the retired Ceb to make his comeback.
05
Ceb's Major comeback with the all-new OG team
Having Ceb back on the team gave the younger players the confidence to come out swinging, as he encouraged and pushed them to play like never before. OG started picking up momentum in the Group Stage, finishing second overall and heading into the Main Event with unparalleled energy. Despite a momentary slip in the Playoffs, where it looked like the team may be eliminated, they came back fighting, dropping only one more game on their way to the Grand Final.
OG learned from their every mistake with these two veteran players guiding them, and Ceb's unique and aggressive playstyle gave them the edge. Having a legend on your team can do a lot when trying to intimidate the competition and soon enough OG were to face Team SoloMid in the Grand Final.
This surprising lineup that had attracted derision and doubt, even from their own fans showed what they were made of during the Finals of their first-ever Major. Winning the entire tournament and lifting the trophy high, the influence of Ceb the legendary player, and the flexibility and hard work of the new squad produced a result that shocked everyone.
Ceb's career has been one filled with excitement and drama and more detail than can possibly fit in one article. Watch the documentary above for more on how the young French player became a Dota 2 legend.