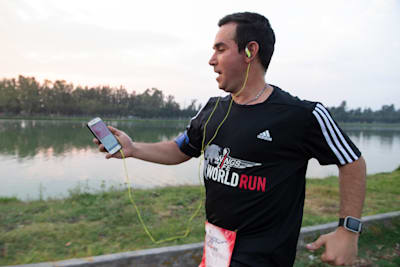 © Marcos Ferro for Wings for Life World Run
5 tips on how to take part in the App Run for the Wings for Life World Run
Here's everything you need to know about running or rolling in the next Wings for Life World Run via the event's unique App.
On May 5, 2024, runners and wheelchair participants across the globe will be raising vital funds for the
Wings for Life
foundation by joining the
Wings for Life World Run
, and many of them will be taking part via the event's unique
App
.
In the Wings for Life World Run, participants run for those who can't: people affected by spinal cord injury. And where you run is up to you. There are Flagship Runs in global cities or you can run anywhere you are with the Wings for Life World Run App.
Either way, 100 percent of every entry fee goes directly to Wings for Life, a not-for-profit foundation that funds world-class scientific research and clinical trials aimed at finding a cure for spinal cord injury.
If you're thinking you'd like to take part with the App, here's what you need to know:
02
When does the race start?
All participants around the world will start precisely at 11am UTC.
03
How does the race work on the App?
30 minutes after the start, the Virtual Catcher Car will begin to chase you via the App, picking up speed incrementally as the race goes on. As long as you manage to stay in front of the car, you'll stay in the race. Then, when the Catcher Car passes you, your race is over. You'll be guided by an exciting audio experience throughout, which you can listen to via your phone speaker or your headphones. It's advisable just to wear one headphone, though, so that you're aware of your surroundings.
04
Where can I find my result?
When you register and then start with the App at 11:00am UTC on May 5, your name will appear on the
Global Result List
.
I'm not taking part myself, but I'd like to donate to a friend. What can I do?
Like entry fees, 100 percent of all donations go directly to Wings for Life for vital spinal cord research. To motivate a participating friend with your donation, simply enter the participant's name in the search field on wingsforlifeworldrun.com and then click on the link that appears to see their profile page. From there you can pledge to donate the amount you choose for their fundraising campaign.
05
How else can I get involved?
You can immerse yourself in the Wings for Life World Run by following its Live Experience online. This information and entertainment hub includes Live Tracker updates and statistics, so you can keep an eye who's going to outpace the Catcher Car for the longest distance. The Live Experience will be available throughout race day at
wingsforlifeworldrun.com
.