How comedy and horror make Winterland TGR's best ski and snowboard film yet
© Nic Alegre / TGR Films
With Winterland, Teton Gravity Research may have just made their best movie yet. Here's why.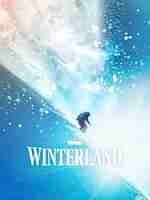 'Their best movie yet'? That's quite a claim. After all, let's not forget that both creatively and technically, TGR have spent the last 24 years raising the bar in action sports filmmaking. From 1996's groundbreaking Continuum to 2016's double-Emmy nomination for
Higher
, TGR have logged more milestones than anyone else in action sports. In fact, TGR are so far ahead of the game, at times they've even had to invent groundbreaking new technology to keep up with their vision, like they did in 2013 with GSS, their pioneering 4K gyro-stabilised camera platform.
So, in 2020, how does Winterland raise the bar yet another notch?
1. All-time pow
Well, firstly, the movie was shot during a bumper season, with all-time snow conditions pretty much everywhere they went. Which was pretty much everywhere you might hope for: Arlberg (Austria), Alaska, Squamish (British Columbia) and Lofoten (Norway).
2. A gnarly opener
Secondly, by opening the movie with
Todd Ligare
,
Tim Durtschi
and
Hadley Hammer
tearing up Jackson Hole, TGR's home base, they give their diehard fans exactly what they want: steep, gnarly lines filmed on home turf.
3. Comedy and horror
When I got to Sam, he was seizing, eyes rolled back up in the back of his head, jaw locked shut. Not a good day in the mountains
Next, they keep the pace moving perfectly throughout. Balancing comedy with seriousness, Tim Durtschi's hilarious junk show montage has you laughing out loud, while
Sam Smoothy
's horrendous ragdoll in Austria is one hell of a reminder of how high the stakes can get out there.
Watch the story of Sam Smoothy's crash here:
4. Skiing and snowboarding legends
Winterland taps into TGR's legacy, while keeping one lens pointed firmly at the future. For the legacy aspect, Jeremy Jones and
Cody Townsend
take on AK's Meteorite Peak on foot, referencing Jones's iconic Deeper/Further/Higher series and Townsend's The 50 Project. It's all the more meaningful because Meteorite was originally ridden by Jones on his first-ever trip to Alaska 25 years ago and he hadn't been back to it since.
5. A taste of the future
Saving the best for last, the film wraps up with a true taste of the future: TGR co-founder Todd Jones's son Kai is just 12-years-old, but he was born watching TGR movies and raised ripping up Jackson Hole. In Winterland, Kai is taken by his mentor Tim Durtschi on his first trip to Alaska and the resulting segment is both touching and mind-blowing.
From urban lines to Alaskan spines, heli drops to touring missions, legends to prodigies, Winterland ticks every box you can think of and does it with a passion that's borne of a long romance with the places 'where earth and sky collide'.