How the Mini JCW Buggy can claim Dakar victory
© Flavien Duhamel/Red Bull Content Pool
The X-raid team are seeking a fifth Dakar victory, and with further improvements made to the Mini JCW Buggy, they have a good chance of achieving it.
A Mini may not be the first vehicle that springs to mind when you think about taking on the brutal terrain of the Dakar. This, however, is no school-run Mini – more than 50 X-raid engineers and numerous partners worked tirelessly to deliver the brilliantly robust X-raid Mini JCW Buggy, unveiled back in 2017. Now, with further modifications and ace driver, and two-time winner,
Carlos Sainz
behind the wheel, there's every chance that X-raid will fight for the podium once more at the
2020 Dakar Rally
.
Category:
The X-raid Mini John Cooper Works Buggy will be competing in the car category (T1.4) at the 2020 Dakar.
Power:
Under the hood, Sainz's X-raid Mini JCW Buggy boasts single turbo six-cylinders, with variable blade technology. That's a couple more cylinders than a regular Mini, and it helps to deliver a monstrous 350 horsepower.
Dakar Decoded checks out the car category at the 2020 Dakar below...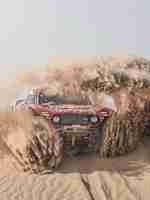 A look at the car category
Notable features:
Besides the fact that the Mini JCW Buggy packs a hell of a punch, X-raid have also carried out a host of new modifications to improve their rally-raid beast. Keep an eye out for the shorter front of the car, making the buggy easier to drive and faster; it should be especially noticeable when traversing steep dunes.
Fuel:
The fuel-efficient Mini JCW Buggy runs on diesel, helping it to go further between filling up than petrol-powered rivals.
Transmission:
When first conceived, the Mini JCW Buggy saw X-raid jump from four-wheel drive to two-wheel drive. It may offer less grip than a traditional 4x4, but it also helps to save weight.
Chances of success:
X-raid's record speaks for itself, with Mini's motorsports partner now looking for their fifth Dakar victory. With the X-raid Mini JCW Buggy now modified to better take on the Dakar's unique challenges, and two-time winner Carlos Sainz – plus 13-time winner
Stéphane Peterhansel
– behind the wheel, you've got a recipe for something special.