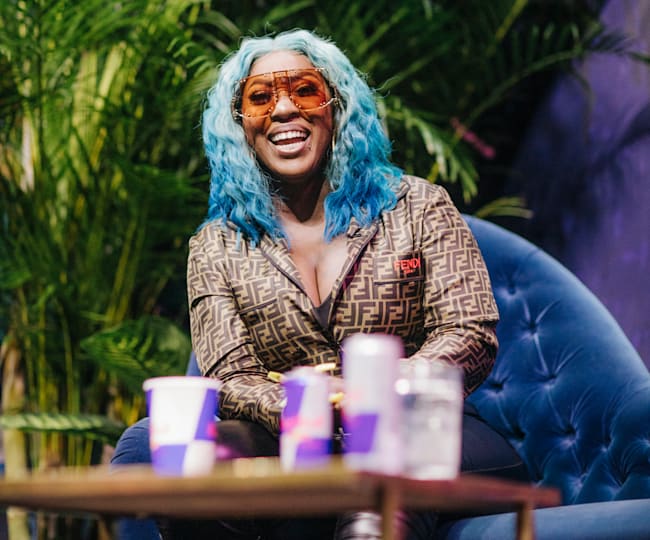 © Dan Medhurst/Red Bull Content Pool
8 things we learned from Spice's Red Bull Music Festival lecture
Watch Jamaican singer, songwriter, dancer, DJ and all-round force-of-nature Spice discussing her life before X-rated dancehall bangers, parenthood, her Grammy ambitions and the problem of colourism.
Twenty years after exploding onto the scene aged 18, and a decade on from
Romping Shop
– the all-conquering
Vybz Kartel
collaboration that made her a household name – Jamaican dancehall artist
Spice
is a blockbuster name.
She has millions of followers on
Instagram
; her videos have been watched more than 270m times on
YouTube
; she had a starring role in
VH1
's hit reality series Love & Hip Hop: Atlanta in 2018; and she's considered every bit the equal of previous female pioneers of the genre, including
Sister Nancy
and
Dawn Penn
. No wonder they call her the Queen Of Dancehall.
In summer 2019, Spice (real name:
Grace Hamilton
) dropped into a West London studio with guests including her protégé (and UK Dancehall star)
Alicai Harley
, BBC Radio 1Xtra's
Yasmin Evans
and
Robbo Ranx
, and reggae and dancehall DJs
Becca Dudley
and
ZJ Chrome
for A Conversation With… at Red Bull Music Festival London.
Among the topics the 37-year-old discussed with host
Sian Anderson
were family, growing up, her Grammy ambitions, parenthood and the problem of colourism. Below, we pick out eight things we learned.
Watch A Conversation With Spice in the player below.
Spice discovered her vocal talents singing in a church choir
"Before there was Spice, there was Grace Hamilton," she says, explaining how her vocals haven't always been quite as X-rated. "I used to go to church. I was a very nice girl. I used to sing in the choir… I think that's where I first discovered my voice. And I discovered it because they used to put me at the front, 'cos me be loud – my lil' mouth loud!"
She came from humble beginnings – but family got her through
Spice, who grew up one of five siblings in Portmore, Jamaica, has had her fair share of family trauma. "My father died when I was nine," she explains. "It was very hard for my mom. Very difficult."
She grew up playing barefoot in the street, in what she calls "humble beginnings", before moving to England at the age of 10. "I remember my grandfather – may his soul rest in peace – he was the one who said he's going to give me a better opportunity. Because I was very brilliant."
Arriving in England, she stayed for a while with her aunt – and, much to Spice's bemusement, a pampered dog named Fluffy. "They will always pat him. So come to see a dog living better than me when I was in Jamaica, I say, what this?!"
How Spice and Vybz Kartel had to fight for fame
Spice and long-time collaborator Vybz Kartel share more than just a hometown. As well as hailing from Portmore, on the island's south coast, the two also came up together, working the same grassroots shows and clubs.
"When he was trying to make a name for himself and I was trying to make a name for myself, we used to go to stage shows," says Spice. "I was always pushing and trying to get my name out there. This is before the fame, before the Vybz got there before the Spice."
The hard work paid off for both of them: Spice recalls one stadium show in 2009 that was so packed out that the promoter demanded they return the next day to play an impromptu second night. "He was the one who changed dancehall to the heavy flow and the fast lyrics," she says, admiringly.
Spice wants to win a Grammy
"I want to do what no other female from Jamaica has done before," Spice explains when asked what her hopes for the future are, singling out the Grammys as one of the next achievements in her crosshairs.
"I want to set trends," she adds. "I want to do something great that will set something for females in dancehall. So when female come after me, they know that, lord, they see they up the game. I'm working towards that and I'm not going to stop."
Body image and representation matter to her
Spice is proud of how her music videos have "represented for thick girls, for the slim girl. It no matter your size. It no matter the shape, the colour. When you hear me song, you just wanna break it down," she says. "That makes me feel good 'cos I know that I give the female that confidence."
Spice is proud to speak out against colourism
In 2018, Spice called out colourism – discrimination against individuals with a dark skin tone – within the dancehall community in an
Instagram
post that sparked a wave of discussion. "I wanted to have their undivided attention. I wanted everybody to hear my message," she reflects, discussing a topic that also she explored on her track
Black Hypocrisy
.
"A lot of people don't know, colourism is different from racism… It's called colourism because colourism is when your own skin colour is fighting against you. All my life, colourism has affected me… In Jamaica, they make you feel like if you don't have that complexion that's on the screen you're not popping, you're not hot…"
Charity means a lot to her
"I have a foundation called
Grace Hamilton's Women Empowerment Foundation
and I did it to enrich women through education and entrepreneurship," she says, discussing a subject matter close to her heart. "We just recently sent a young lady to college. I sponsored her US$300,000 [£244,000/€270,500] and she's doing extremely well."
Other gestures of altruism from the foundation include paying for 2,000 children's school books and tuition. "When I saw the need for more education in Jamaica, I wanted to make sure that next year it's bigger and better, because I have to make sure that I cater to the amount of people that really need help in Jamaica. So I'm going to make it bigger and better next year."
Balancing parenting with dancehall stardom isn't easy
Spice is a mother of two – Nicholas and Nicola. "I love them to bits. What I'm doing right now? I do adult entertainment. There's no going around about that. Dancehall is very sexual. Sex sells. You have to dress a certain way, you have to do your music a certain way. There's no going around that... I know what I'm about. I know the music and the genre that I represent and I know what it comes with. [But] Spice is the one that does the adult entertainment. Grace Hamilton, however, is the mother that's at home."
Spice is yet to introduce her children to her music. "My daughter don't know Spice and I don't introduce her to that world, so she's not allowed to listen to my music. I'm going to have a lot of questions to answer when she gets older. But for now, she knows Grace Hamilton."
And what if, when she's older, her daughter says she wants to follow in her mother's footsteps? "I say: 'no so!'" the star laughs. Spoken like a true Queen.