3 quick hits from Zurich with Henrique Goncalves!
© Alan Maag
Hooked up and having it, Henrique has the best of both worlds in this Curtain Call from Switzerland.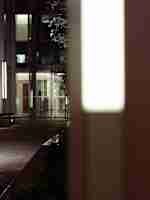 3 quick hits from Zurich with Henrique Goncalves!
Long-known within Switzerland as a major mover in the skating world,
Henrique Goncalves
brought a touch of his Brazilian roots to two video parts which helped establish his name in the wider world of European skateboarding. His debut international section co-promoted by sponsors ColourGroup and Emerica demonstrated some wild tenacity on the streets of
Switzerland
and
Spain
, and the shared Japanese tour video with The Warriors on
Benjamin Deberdt
's fine
Live Skateboard Media
which showed his adaptability to new terrain, always the mark of a true street rat.
Also one of the main riders on the Reell Jeans roster, Henrique has some recession-proof backing justified by his talent on the board. By way of example, we bring you his
Curtain Call
from the streets of Switzerland in our ongoing mission to shine a light on the underground talents of skateboarding all around this big old world.
Enjoy his powerhouse skate moves, and add a new name to your list of down-low ripping favourites!