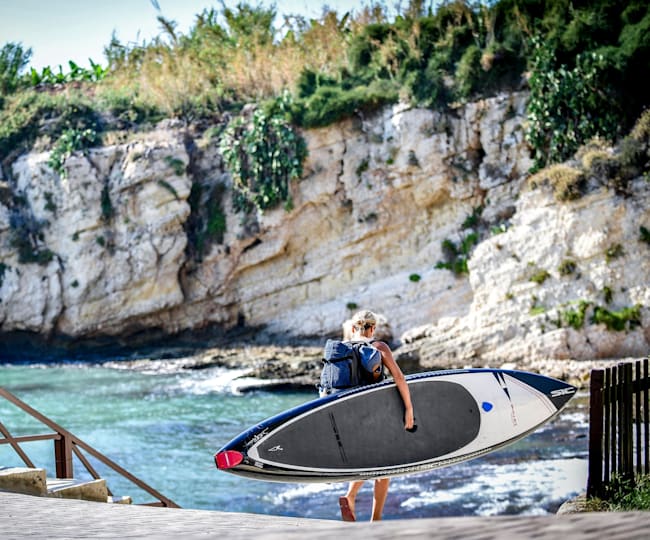 © Roy Mrad/Incognitos
From South to North Lebanon On A Stand-Up Paddleboard
Here are 11 things you need to know about Caroline Raphael who will try to break the Guiness World Record in Stand-Up Paddle going from the South to the North Lebanon in just 24 hours.
2.
Caroline was heading down a different path
A degree in graphic design, masters in 3d animation and pr certificate; but her real passion? Outdoor sports
3.
In 2013, she learned surfing while on vacation in Lebanon then continued surfing in LA
"I was in love with the sport. I believe it was the cause of my career and lifestyle change. The sea and the sun made me happy. The simple life is so rich and free. My soul became at peace. Until now surfing is my passion"
4.
In Lebanon however, she decided to focus on SUP (stand up paddleboard)
"I loved it. I love that it is great on flat days for cruising with friends, downwind days, surfing too, and what is also great about it is that it is a full body workout. It gets you fit in the perfect way and so refreshing because you can get to take dip in the water."
5.
Came for a visit to Lebanon in 2017 and opened a water-sports club "Surf Shack Lebanon", ended up staying to manage the club!
6.
Why did she decide to cross the coast of Lebanon on stand-up paddleboard, you ask?
"Because of the coastal tours I was doing last year for my clients and seeing how it is changing their behavior to the better towards the country and the sea (taking care of them, and are aware of the pollution effect on the marine life) and as well appreciating the beauty of the coast"
7.
It's in the news that the country is going through a sea pollution crisis and coastal destruction, and speaking of it has become numb to our senses. However, actions are being taken with minor results, such as beach cleanups.
And Caroline came with the idea to deal with the problem by using a technique aimed at shifting attention to more positive aspects of life
8.
How? By magnifying the positive aspects to highlight the negative issues.
9.
Discovering the coast on a stand-up paddleboard has motivated Caroline to set a world record by paddle crossing Lebanon in 24 hours and raise awareness on four important issues:
- The natural beauty the coastal environment has to offer
- To highlight the importance of coastal and marine ecosystems and its protection
- To promote the SUP sport
- Empowerment of Lebanese women in the Middle East
10.
So, what's her mission?
It's to make Lebanon a more active country by bringing the culture and sports of paddling. She achieves this by connecting people to the water through the experiences and services she offers.
11.
As a female athlete, Caroline will represent the women in Lebanon and paddle a minimum of 180 kilometers. Crossing the whole coastline of Lebanon within 24 hours and attempt to establish a world record.