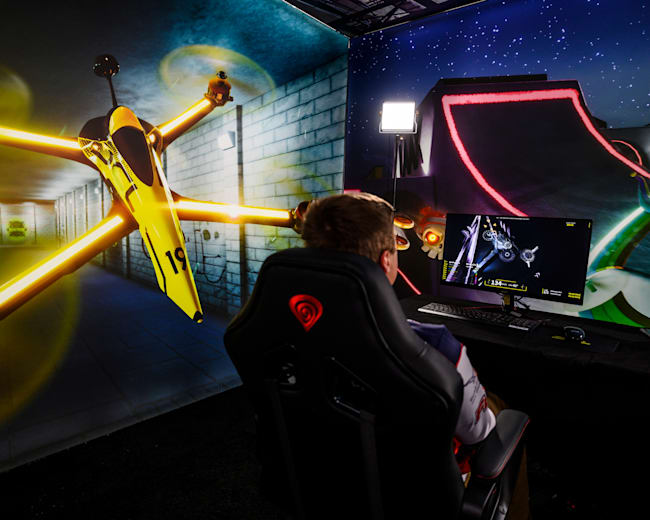 Is Drone Racing the Sport of the Future?
© Armin Walcher - Red Bull Content Pool
From entertainment and leisure to sports and cinematography! All you did not know about FPV
Drone sports, or FPV, is the only sport that combines the virtual world with physical reality. Where the rider controls the plane wirelessly, using virtual reality glasses to see the plane's perspective as if he is controlling from inside the plane, with the basic information of flight emerging from the plane and battery settings. And the rider uses this information to achieve the best flying style. These aircraft may exceed 120 kilometers per hour in maneuvers that are almost counter to the mind and physics.
FPV started as a hobby and way of entertainment and turned into racing and competition, and many people use it for cinematography, especially in photography that needs high speed chases.
Drone racing is at the forefront of competitions in which technology and wit are combined. It is considered the cradle of future technology, given that the future revolves around drones and the various services they provide.
These competitions are characterized by constant changes and challenges. It relies on continuous research and development to reach the best performance and the best equation between speed, weight and battery. For this reason, universities, schools and even countries compete to put a distinctive imprint in this field.
FPV competitions are divided into two main parts:
Races: Time lapse or Time Attack, a race based on speed and accuracy, and the winner is the one who completes the track in the fastest time.
Freestyle Show: Freestyle is a free exhibition method that improves flying skill of the pilot and shows his flying ability.
A distinguished national team was to be established to represent Jordan in international races, with the support and guidance of the Crown Prince Foundation and Saqr Company, through coordination with all security agencies, to facilitate and provide a safe environment that serves creativity and youth skills.
Because of the current situation that the Kingdom is coexisting with, we encountered difficulty in coordinating training courses, due to the pandemic and the need to adhere to health precautionary measures and adhere to social distancing controls. It was decided to postpone activities until the epidemiological situation in the Kingdom stabilized and life gradually returns to normal. Therefore, we will hold remote training courses and challenges in preparation for the next season, by equipping a group of young people to train them in wireless flying skills.