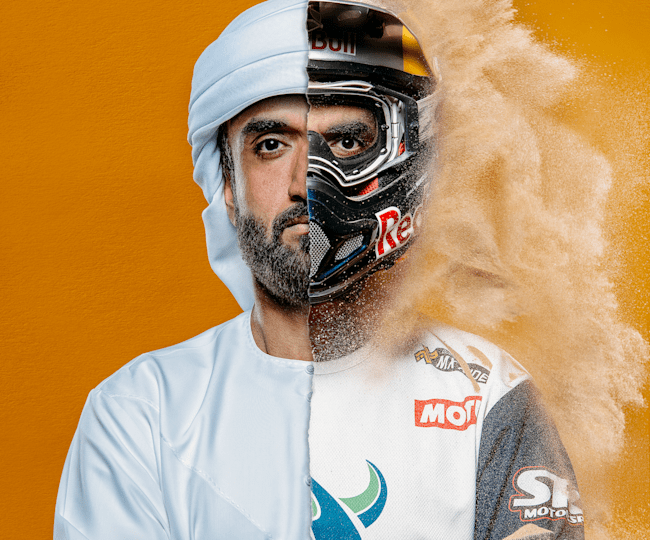 © Red Bull
Mohammed Balooshi on the Power of Adjustment During Ramadan
He admits he goes "full gas" for 11 months of the year… the holy month offers the Emirati motocross champ a whole other set of advantages
For 11 months of the year, skilled champion rider Mohammed Balooshi can either be found rallying across Dubai's dusty deserts or honing his fitness in the gym… But during Ramadan, the Emirati athlete uses the holy month to relax his regimented schedule and spend time with friends, family and focus on spirituality.
An early riser, a typical day for Balooshi during most of the year is waking up at sunrise for a cycle, before having an Arabic coffee then heading to the gym for his second workout of the day (resistance or balance training). Following breakfast and a power nap, he is then back on his dirt bike before spending time with his family.
"I cycle, go to the gym, run and ride – then do it all again the next day," says Balooshi, who admits while he keeps a busy life, his focus away from his principle sport is keeping his fitness at optimal levels, and training to be a better athlete.
"It is rinse, repeat on most days."
His mind, he says, is constantly on motocross, whether learning to build his agility, speed or working on a new skill.
"I do a lot of things, but all my hobbies revolve around riding and becoming better at riding," he explains. "My dream day is a perfect ride, learning something new with riding and becoming better and honing my skills in a sport that is constantly evolving."
PICK ONE THING BUT BE GOOD AT IT
During the holy month of Ramadan, Balooshi shifts his schedule to ensure he can still fit his training in around his daily fast.
"I don't do any sporting activities during the day; I fast from sunrise to sunset, and start training at 5pm until sunset when I break my fast," he says.
With Ramadan a time for family, friends and reflection, Balooshi cuts down his twice-daily exercise routine to a single session.
"I pick one thing during Ramadan: cycling, running or gym, and focus [on that]. [But I also prioritise] the spiritual side of Ramadan and this brings me a lot of calmness.
"Normally, we are so caught up with the sporting life and competitions. This month is a good time for me to relax and unwind and do a lot of spiritual prayer. It is a good adjustment then I go back to full gas for the other 11 months of the year."
Aside from his athletic prowess, there is one hobby that gets Balooshi off his bike and out of the gym or desert – and that is building a new generation of local athletes in the motocross sport. His dream is to see more young Emirati and Arab youth make their foray into the international racing circuit.
As a result, Balooshi – the first Emirati to take part in the legendary Dakar Rally – is helping train the next generation of riders with his own MX academy in the UAE, a training school for the nation's budding stars.
Through the school, he likes to be hands-on, giving personal one-to-one advice to young riders.
"I started this school with a passion to improve sports – especially in this sport – in the Arab world," he says. "Now, we have many up-and-coming Arab riders, and more riders than ever competing in world championships.
"I am very happy to see this and to see how the sport is evolving both in my home country – and in the wider Arab world. We, and I, are in a good place."
Looking ahead, while Balooshi – who started riding at the relatively late age of 20 – has achieved many notable milestones in his career, he says he proudest "is yet to come".
"I have achieved a lot but there is so much more that will satisfy me and that is still in the making," he said. "I have a long list of goals which I am constantly adding to and I always come up with new stuff.
"I constantly want to improve myself as a rider, improve the sport, and improve myself as a human being."