Rajasthan Royals launch 2020 jersey in most epic way possible
© Sajal Kapoor | Rajasthan Royals | Red Bull Content Pool
Skydiver Dani Roman surprised the players and coaches of the team by jumping out of a plane and parachuting down to them on a beach in Dubai to officially present the jersey.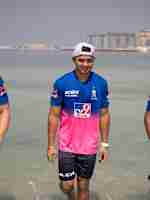 Rajasthan Royals 2020 jersey launch
Rajasthan Royals have been enjoying a good pre-season, stationed at One & Only Hotel, Royal Mirage in Dubai, ahead of the start of the 2020 campaign.
On a relaxed afternoon at the beach, the players were in for a mind-blowing surprise visit when skydiver
Dani Roman
launched himself out of an airplane over the Palm Islands with a special delivery.
The wingsuit athlete was carrying with him a Rajasthan Royals bag stuffed with the team's official jersey for the upcoming season, and unknown to the players, this surprise visit was the official launch of the jersey.
The players watched in awe as Roman landed on the beach beside them, presented the bag with the jersey and quickly left on a speedboat.
Filled with the adrenaline of a watching an extreme sport in close quarters, the Royals players got the jersey out of the bag to give the world the official first glimpse at the kit for 2020, also taking their chance to put it on for the first time.
Riyan Parag, David Miller, Robin Uthappa, Sanju Samson, Shreyas Gopal, Jaydev Unadkat and Varun Aaron were among the Royals players present for the jersey launch and could hardly contain their excitement at what they had just seen.
"I am aware of how Red Bull is about extreme sports and adventures so I was excited and expecting something crazy to happen today. Sky diving is something on my bucket list and seeing someone come down from the sky today and land with our jerseys was amazing," said all-rounder Riyan Parag.
Explosive left-handed batsman David Miller said: "Our mornings are generally very quiet but today it turned around totally with us being asked to head to the beach for a surprise. It was such a great view to see someone jumping off a plane and land to deliver our jerseys for the season. I have myself experienced skydiving in Dubai a couple of years back, brought back a lot of memories."