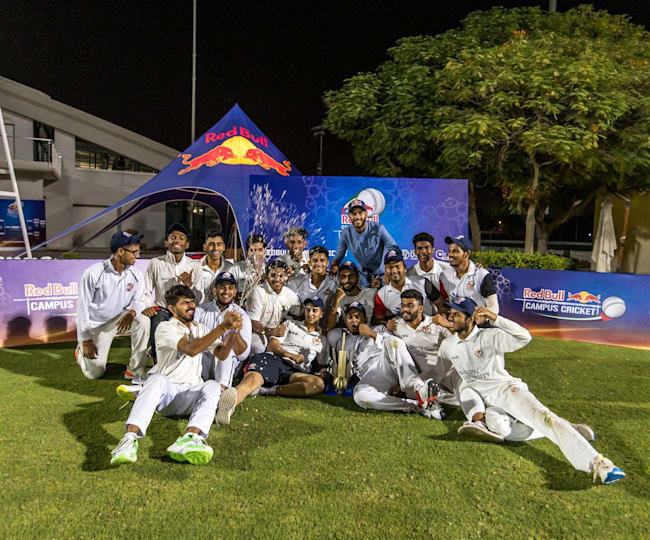 © Alin Constantin _ Red Bull Content Pool
UAE Campus Cricket Finalists Aiming for the Top Spot
Meet the Dubai-based cricket squad taking part in the World Finals later this month at the ICC Academy.
They may be playing on home turf at the World Finals later on this month, but the Manipal Academy of Higher Education's cricket team isn't taking anything for granted.
"We are currently practicing every day, and our university is very proud of us," vice-captain
Harry Krishnan
tells us. "Our training is better than ever."
And they've firmly got their eye on the prize.
"We have a very good unity; a team of cricketers – 16 superstars who are equally amazing – who treat each other like family," Krishnan, 20, says. "Our head of the university flew from Bangalore and congratulated us. Walking in university feels very different now. People are coming up to us and hugging us – I am really happy to see that we won such a big tournament. Even people we don't know are congratulating us, so it means the world to us."
Manipal Academy, aka Team UAE, consists of student players age 17 to 23.
"We've all [had experiences playing] amazing cricket; some of us have played for the UAE Under-19s, meaning we've had the opportunity to play on some big stages. So we are confident that we could be one of the underdogs of the World Finals," continues Krishnan. "We know this is the biggest Campus Cricket tournament and we really wanted to enter. As soon as we heard that the qualifiers were happening, we knocked on our coach's door and told him we needed to enter this."
It's certainly paid off. But who are they looking forward to meeting at the finals?
"I have heard Sri Lanka have good paces. But we're confident we can face anyone in this tournament," he says.
Meanwhile, they're also looking forward to seeing some Red Bull Campus Cricket alumni, as they're big fans.
"Chirag Suri is an amazing cricketer. When I was in the [UAE's] Under-19 camp, he used to come up to different players and fix their mistakes. After training he could have just gone home to relax, but instead he would stay for an hour or two, and help us work on our mistakes," he reveals. "He's fixed my reverse sweeps, my paddle and so on… there's no chance I can mess up these shots thanks to him.
"And then there's KL Rahul, if I ever get a chance to meet him, it will be one of the best memories of my life – it will be the best moment of my life!"
Join us in supporting Team UAE! For more details on dates and venue, visit the official
Campus Cricket 2019
website.