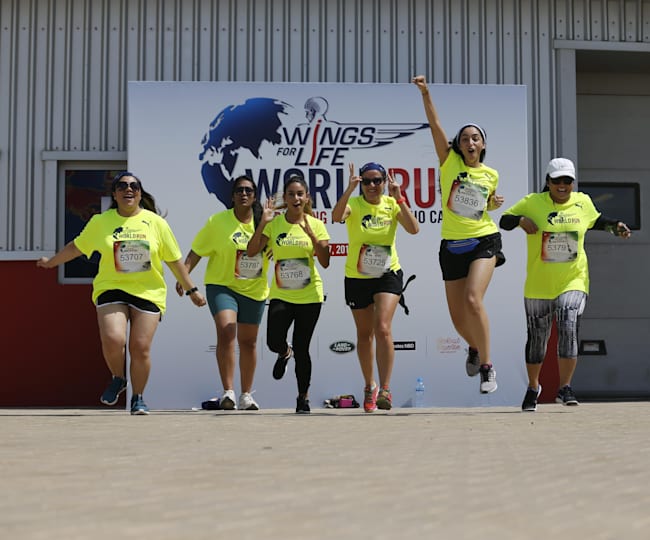 © Jorge Ferrari
Wings for Life World Run Returns to Dubai – Download the App Now
Dust off those trainers and fetch your running shorts back out of the cupboard – it's time to get your sweat on! And it's all for a fantastic cause.
Has it been a while since you last went for a jog? Maybe you need an excuse to get those running shoes back out from under the stairs? Well here it is! The
Wings for Life World Run
, returns on Sunday 6 May, where runners across the globe set out to run for those who can't.
Don't be fooled though – it's nothing like your typical Sunday morning marathon. The Wings for Life World Run is suitable for runners of all abilities because unlike other races, you're racing against the finish line. Half an hour after the race starts, the 'catcher car' sets off, chasing runners across the track and gradually speeding up until the last one is caught – adding an extra element of excitement. Reckon you can beat the current record of 88.44 km?
As mentioned, the race takes place across the globe, with all participants starting at the same time. So unlike other marathon events you'll literally be racing runners across the planet! Wherever you finish, your name will end up on the Global Results list, so you can pitch your stamina against people all other the world.
This could be your chance to put Dubai on the map but make no mistake – runners will once again have to brave temperatures of up to 45 degrees if they are to succeed. Think you can handle the heat?
As if you needed any more motivation, you'll be helping to raise money for spinal cord research. Every dirham raised, including 100% of all entry fees and donations, makes its way to research projects which aim to find cures for spinal injuries. These projects and clinical trials take place at renowned universities and institutes worldwide. The not-for-profit Wings for Life Spinal Cord Research foundation is a driving force and pioneer in its field. It's your chance to be part of a massive, globe-encompassing effort - so you really will be running for those who can't.
If you're motivated by raising awareness and lowering your personal best then this is the race for you! Download the Wings for Life World Run app on iOS or Android and complete the race wherever you are in the UAE, or come join us for the official location at Dubai Design District (D3). Just be ready on 6 May at 3pm.
You'll still be head-to-head with runners from all over the world, as well as the dreaded chaser car.
Since it was launched in 2014, the World Run has attracted over 435,000 participants of 193 nationalities, in 58 countries across all seven continents – and it is continuing to grow! Over the years, millions of kilometers have been covered and millions of dollars have been raised.
Whether you're a runner, a walker or a crawler, a fancy-dresser or a dedicated long-distance runner, looking to give to charity or get into shape, everyone can find a reason to run.
The Dubai Wings for Life World Run 2018: Sunday 6 May at 3pm
Dubai Design District (D3)