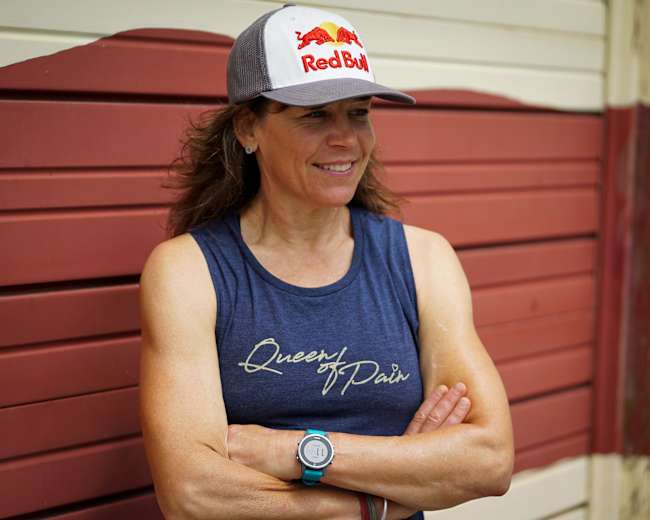 Rebecca Rusch shares her tips for taking on an Everesting challenge
© Annemarie Hennes
When advice for surviving an epic endurance challenge is needed, Rebecca Rusch has the answers! From preparation to mind power, here are some top tips from the Queen of Pain.
Rebecca Rusch
is an endurance cycling legend. She's been the 24-Hour Solo Mountain Biking World Champion several times, a multiple-time endurance race record holder, and inspirational adventurer and speaker. But she's never taken on an Everesting challenge… until now!
The rules of Everesting are simple
: Climb the height of Mount Everest, which is 8,848m (29,029ft), on one hill (one route, repeated) anywhere in the World. Complete it in one activity, with no time limit but also no sleep.
Rusch is doing the Everesting attempt as part of her
Giddy Up Challenge
to raise funds for charity, and will be trying to complete it this coming United States Memorial Day long weekend – May 23-25, 2020 – near her home in Ketchum, Idaho. She's also encouraging bike riders and runners from across the globe to
join her
, whether it's outdoors on a trail or indoors on a stationary bike or a treadmill.
See Rusch set a new record on the 230km Kokopelli Trail: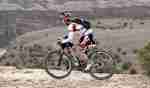 Rebecca Rusch sets new record on Kokopelli Trail
Climbing this elevation in one continuous attempt on a mountain bike is no small challenge, even for someone with Rusch's experience. Thankfully the years of experience she has in endurance riding will help her to plan, schedule and hopefully complete this mammoth task.
"It is a big challenge for people, it's not something they would do on a normal weekend, and that's the idea. I want people to really push outside their comfort zone
We picked Rusch's brains to find out how she's preparing and what wise words she has for anyone else taking on an ascent of the World's highest mountain in their own backyards.
Preparation
Top up the reserves: sleep, rest and hydration. And get planning; a lot can be done other than just cramming in as many miles as you can
Would you advise people to do a big test ride in preparation for an Everesting challenge?
For the GIddy Up challenge, with the hill that I've chosen, I'm expecting that it will take me close to 24 hours to complete the whole thing. Obviously, I'm not going out and riding 24 hours on the weekends, so it's more about some longer rides when you can do and then shorter and sharper intervals in the week.
I know the hill really well, but I wanted to ride it to get an estimate of time so that I could think about plans and strategy for nutrition, bike lights, and my equipment. It's just like race; it got my brain going thinking about all the ways that I could do my best.
If you're riding outside, is there an optimal type of hill in terms of distance and gradient?
My coach recommends around seven percent gradient; it's not so steep that it'll kill you, but it's steep enough that you'll keep racking up the elevation. And about a 20 to 40-minute climb. You don't want a super-steep hill because the muscle contractions will just be too intense.
Can you prepare for the lack of sleep?
I've had a lot of experience in sleep deprivation – it is not something good to practice! You don't want to make yourself extra tired. What's good is familiarity. I would practise riding with bike lights to make sure that when it's dark and you're tired, you're not freaking out because of the equipment.
How do you avoid saddle sores during such a long ride?
Saddle choice is super-duper key. Saddles are very personal; they come in a lot of shapes and sizes so it's important to get your sit bones measured so that you're sitting right on your skeletal structure not on your soft tissue. Saddle placement is also key.
I would really invest in is a good pair of shorts. As with gloves and saddles, it's not necessarily that more padding is better, but the shape and construction that needs to fit you. Finally, chamois cream. It's a weird feeling to start with but ultimately you're going to be thankful for it!
Will you make any adjustments to your bike specifically for this challenge?
I have actually changed the gearing on my bike. Because it's a climbing challenge, I've put on a 38-tooth front chainring where normally I ride 46. No one ever wishes they had bigger gears on a climb!
Is a support crew essential?
I don't think you need a support team, but obviously if you have someone who's willing to go out and be your cheerleader then that's awesome. I'm not going to have that; I will set up my own little aid station in my car and use that. Certainly make sure that someone knows where you are and roughly when you expect to finish.
What should you have in an aid station?
For me it will be my nutrition in there, a bunch of Red Bull, layers of clothing, medical kit, extra bike equipment. I want to have the aid station at the top of the climb so I can fuel on the downhill because it's really hard to refuel when you're breathing hard.
Schedule, timing and pace
How important is it to make a schedule and a strategy?
Breaking it into small chucks is really important, that's why I'll try to hit the one-hour goal per lap, and know that I'm on schedule if I hit that. It's important to have small goals, otherwise it just seems too big. I'm concentrating on one lap at a time. Of course, I'm looking at the whole thing in terms of how many batteries I need for my lights, will my Garmin last long enough, how much food I need.
Is it beneficial to take some longer breaks during the ride? When would these be?
You can plan with the best intentions, but things will happen naturally and I'll listen to my body and probably I'll take three 20-minute breaks where I'll eat something more substantial, have some tea from the flask, maybe sit down for a few minutes, use the bathroom. So, you have your one-lap chunks and then your three or four-lap chunks as your little reward. And then you're finished!!
What's the best method when it comes to pacing – slow and steady or go out fresh and fast?
When I'm calculating my time for a really long event, I'm estimating more time than usual because I'll obviously be going a lot slower than normal. For pacing, people want to make sure that they're going for a pace that at the start will feel really slow but by the end of it will be hard to maintain. Think about a pace you can maintain.
Nutrition
You can be the fastest person in the world, and the most trained, but if you aren't keeping on top of your nutrition it doesn't matter
Is there a golden rule on nutrition, like a certain quantity of carbs per hour for example?
I pretty much have a standard recipe for one hour and it's about 24 ounces of water (680ml) and 200-300 calories, and then add electrolytes and amino acids. But you also have to listen to your body. Maybe you just really want a slice of pizza one time, or if you feel like you want something really salty or something really sweet your body is telling you something. The hard part with endurance events is that you don't feel hungry and you don't want to eat, so trying to stay disciplined with that minimum hourly intake is really important.
What kind of foods will you take for this challenge?
I have a mix of foods, so some comfort foods like pizza but also a lot of liquid calories – it's easier for me to drink my calories rather than eat them. I make a lot of my nutrition, like rice bars. I like these interspersed with the more scientifically engineered food. I'll have a lot of choices and I won't eat everything I bring, but I'll definitely have the staples and then some extra stuff in case the mood hits, and warm drinks for if it's cold at night.
Are there any foods that you would advise against eating during an endurance event?
Different things work for different people, but just make sure you've tried it before. Keep in mind that what tastes good when you're physically exerting yourself is sometimes different than your favourite food at home. Make sure you have a variety and train with the nutrition to work out if you like it.
Mental strength
Maybe have a mantra. Why are you doing this? Carry words of encouragement in your pocket, and if you need to pull them out to remind yourself then do that
Do you find listening to music or podcasts is a helpful motivator or distractor?
I use music and audio books for the witching hour of the night – for me it's usually between 1am and 4am or just pre-dawn. I don't always have music going but I do save some for the middle of the night because it just helps your mind stay attentive and awake. Also, audio books. They let you forget the pain in your legs but keep your brain focused and awake.
When the mental demons start to creep in, how do you beat them away?
There's a few things I do. Firstly, I pretend that I'm talking to a friend of mine and what words, if she was riding right next to me feeling the same as me, would I say to her? And I actually say it out loud. I say "you can do this, Rebecca!", and I know that's really weird but that's one trick that works!
And then the other thing is to break it into chunks. Tell yourself, "just get to the top this time and then you can take a rest". I have a friend who said, "you can never quit the race at the bottom of a hill, but you can quit at the top". So, I tell myself that I'll just get to the top of the next climb, and then sure enough you get to the top of the climb and then there's a downhill and you feel better again.
Finally, if you could give only one piece of advice for someone taking on an Everesting challenge, what would it be?
Just believe in yourself! Whatever you're taking on, you can do it. It's so much stronger to believe that you can do something rather than you can't. Use positive talk and tell yourself "you've got this, you can do it", and tell it like you would tell it to a friend.