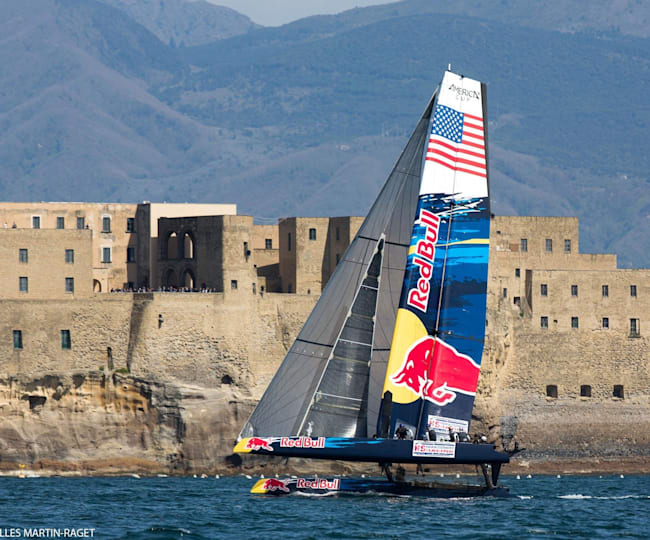 © ACEA/PHOTO GILLES MARTIN-RAGET
America's Cup World Series: Day 3 in Naples
Day 3 action from Naples plus an interview with HS Racing helmsman Roman Hagara.
Day three of the America's Cup World Series in Naples belonged to Emirates Team New Zealand after the crew battled tricky weather at top speed to win both fleet races.
The team skippered by Dean Barker showed some impressive technical skills on a nasty chop as the wind strength ranged between 7 and 12 knots.
"I feel like all through training and racing we've had good pace through all the conditions," said Barker as Emirates Team New Zealand became the third overall leader of the series in as many days. "But there's a bit of a mistral pushing a little bit of seaway into the bay. It makes these boats nasty to sail, they don't like waves. But it rewards good crew work and I think that's a strength of our team."
Tomorrow's final day of the championship will also see two first-time skippers fighting it out for the title. Oracle Team USA's skipper Tom Slingsby will be duking it out against Luna Rossa Swordfish's Francesco Bruni after the two first-time AC45 helmsmen defeated their semi-final rivals today.
"I want to win tomorrow," said Slingsby. "New Zealand has a nice lead right now, but if we win tomorrow we'll take the glory. For the team it's great, but for me personally my job's not done yet. I want to win tomorrow.
"This is my one chance in an America's Cup World Series. Who knows when the next event will be so I'm trying to make most of it," he said.
Be sure to come back tomorrow for more action from the final day of 2012/2013 America's Cup World Series in Naples.
Read on to see what HS Racing's Roman Hagara has to say about his role in the America's Cup...
What's the main difference you've found between the Olympic sport of sailing and the America's Cup?
The big difference is that you're racing against teams, and big teams, and in the Olympics there's a much smaller crew with fewer people involved. The America's Cup is also of course a lot more commercial.
Why did you decide to enter the America's Cup World Series?
It was always mine and Hans Peter's goal after our Olympic careers to be part of the America's Cup which is one of the oldest and biggest trophies in sport. Sailing is not just about the Olympics – it's about the America's Cup and we always wanted this. It's a step in the right direction for us and we have to see for the future how it goes. We're seeing now how everything works and who knows what will happen in the future.
What has been your experience so far of the AC45s?
They're really nice boats and very good for sailing around the course. You have to work a lot on the sails and training on your manoeuvres. With the race course in Naples the big difference we've found is the boundaries and you have to work hard to keep all the boats together and we've had one or two penalties already because we are not used to this system. There are one or two new rules as well so it's all a bit new to us... we have to get into it and adapt quick but it will take time.
What's the most important element in a successful sailing team?
A lot of sailing is about communication – you have to keep the communication up, so everyone on the boat knows their position and the work he has to do. Only then can you succeed as a team.
If there's one piece of advice you could give a sailor, what would it be?
It's simple really – you need to take every opportunity you get. It doesn't matter if it's Olympic sailing, big-boat sailing or match racing. You need to learn all different kinds of sailing and then in the future you will give yourself the best possible chance.
And, as sports director, you're playing a big part in the first-ever Red Bull Youth America's Cup later this year...
It's a really good step for the young sailors to come into the America's Cup. When we were young we never had a chance like this. We had to go through a very long process before we could become recognised in the America's Cup. We were responsible for selecting the five teams from the 12 that we invited to San Francisco for the Selection Series earlier this year and now we want to maximise the opportunity for the young sailors.