Dirt Diaries: Taking on Putrajaya Challenge Park
© Jessen Lee
Exploring the man-made mountain bike trails that brings you closer to nature
Since its opening in 2009, the Putrajaya Challenge Park has been a popular choice for many extreme sport enthusiasts. Whether it is rock climbing or mountain biking, it is the place where you go to learn, enjoy and be excited.
Boasting one of the biggest rock climbing gyms in Malaysia and a very well carved out nine kilometers mountain bike trail. The facilities here are well organized, complete with shower and rental facilities for bikes (mountain and dirt jump), skateboards, and other necessary equipments you will need for a day of extreme fun at the Putrajaya Challenge Park. They also have a food and beverage area on the higher floor at the entrance to the skate park.
From dirt jumping, downhill, slope style to cross country, this place is nothing short of exciting for bike aficionados.
Getting to the trails
Located in Precinct 5, Putrajaya, it is quite easy to get there using your GPS navigation app. Once there, ample parking spots are readily available and when you are ready to roll, you can ride straight from the car park through the dirt jump sections to get to the trailhead which starts at Gazebo A.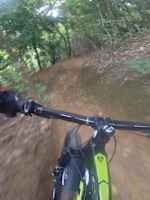 Ayam Hutan Trail descend.MP4
Challenging trail time
The trails here are well maintained and always clean, which is a great help for riders to be able to easily spot obstacles like roots, rocks and ruts. While are many different routes here, you can be rest assured that it is safe to ride around in as you definately will not end up in Timbuktu if you do happen to get lost in there. The trails ranges from Easy (green or blue signage) to moderate (red) and difficult (black).
Like any other trails, it does come with your occasional wildlife such as monkeys, snakes and wild boars (very rare)amongst others. But they do not really appear that often so it is much a safer option compared to riding on highways. Other potential obstacles are the rocks and berms that can be found at the mountain bike trails. So please exercise extreme caution if you are new to the trails here.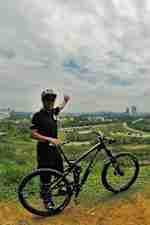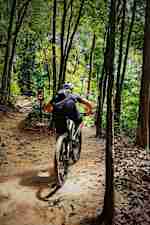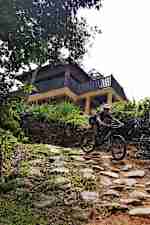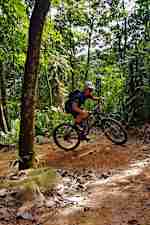 Rocking it at Red Trail 13
To get to the highest peak, which is approximately 80 meters above sea level, you will have to climb towards the entrance of Red Trail 13, where Gazebo E is located. It is not really high compared to Bukit Kiara Trails but it makes it up with its flowing curves and sweet jumps. When you have reached the peak, you are treated with an amazing view of Putrajaya City, a rewarding sight to have after all those climbs to get up there!
Getting dirty on the flow
The trails here are definitely challenging but it also offers better ride flow compared to Bukit Kiara Trails which is technical and full of obstacles. The Putrajaya Challenge Park is a man-made mountain bike trail which was built on an old rubber and palm oil plantation just like the whole of Putrajaya prior to its transformation into the federal administrative center of Malaysia.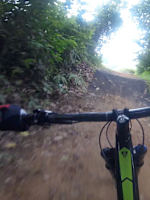 Berms full of fun at Red 16!
Downhills are always ups
The downhill track here is pretty sweet and smooth. Getting there through the tarmac is the easiest and quickest option to get to the top of the hill where Gazebo H and the start of the downhill track is situated.
There are berms and jumps of all sizes to test your prowess on a bike and if you like something a little harder on your heart, lungs and legs you might like to try the cross country (XC) routes with steep climbs to push your body's limits. The tougher trails that are marked as 'Moderate' are mostly slightly steeper and rougher. While you will not be able to to substitute the hills with easy green trails, there are plenty of rest areas like the nicely built and clean Gazebos you will find around the trails. So, you can catch your breath before continuing on your adventure.
The Putrajaya Challenge Park MTB Trails is a perfect example of what a great man-made MTB track is like especially when it is coupled with top-notch facilities that caters to everyone. This is definitely a go-to place when you need to break free from your daily lives and live a little more on the edge.