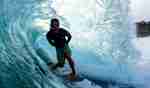 Hit and Run – Pacitan 2017
A few short months ago Indonesia's largest island, Java, hosted one of the most fun Qualifying Series events of the year. The surf pumped all week long and a young field of surfers, who stem from all over the planet yet are lucky enough to call Indonesia home, cleaned up most of the silverware.
Of course, it didn't only fire for the contest, there were plenty of waves to be had outside of the hooter too, and that's where our man
Timothy Ridenour
stepped up with the super-fun edit above.
Starring future stars such as
Rio Waida
and
Kian Martin
, who just so happened to come first and second in the event, and a few more familiar faces like
Rizal Tandjung
and
Betet Merta
this is one of the most fun edits you'll watch this week, and if it doesn't make you want to wax up and go for a paddle then nothing will. Hit play now and enjoy!