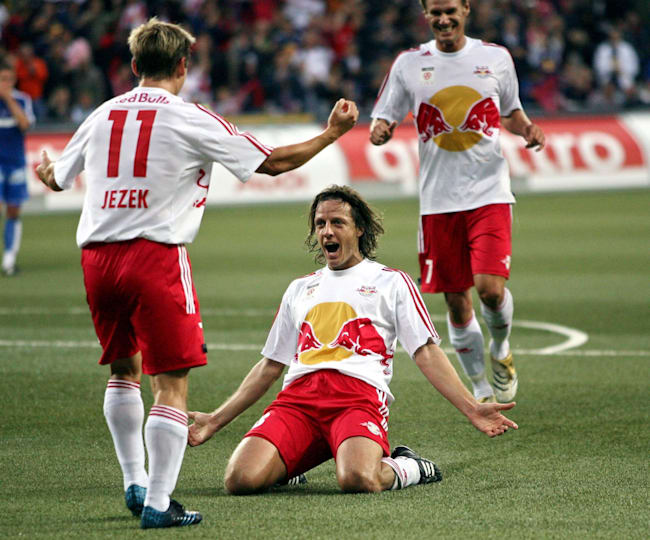 © GEPA Pictures/Hans Simonlehner
Trapattoni inspires Red Bull Salzburg's first Austrian Bundesliga title
Legendary Italian football manager Giovanni Trapattoni guided Red Bull Salzburg to the league championship during a dominant 2006/07 season.
Red Bull's embrace of professional football really kicked off in earnest in April 2005 when they took over, reformed, rebuilt and rebranded their old hometown club, SV Austria Salzburg.
Red Bull Salzburg's red-and-white revolution began to bear fruit the following season when the made-over club achieved their goal of qualifying for European competition, finishing runner-up in the Austrian Bundesliga under the solid coaching of former Austrian international, Kurt Jara.
But they wanted much more. Feeling they were then ready for their next step towards becoming the dominant force in Austrian football, Salzburg appointed a dream team of Giovanni Trapattoni (one of Italy's most successful coaches) as managesr and Lothar Matthäus (German World Cup-winning captain) as his assistant.
So it was that in 2006/07 season that the inspirational hand of 'Il Trap', a manager who'd previously won 21 trophies (including a European Cup) and league titles in three other countries, guided Salzburg comfortably to the breakthrough triumph.
Quality ran through the spine of the side with tough-tackling German international Thomas Linke at the back, Croatian captain Niko Kovac running the midfield while, up front, another German star, Alex Zickler, proved to be the league's most prolific scorer with 22 goals.
The team were in such a different class to their domestic opposition that there were still five games left in the season when they were able to wrap up the title at the Red Bull Arena with a 2–2 draw against the previous year's champions Austria Vienna.
"This title's of great importance to me, since our president's always given us his trust and always believed in us," said Trapattoni. "Plus, all of us here have worked together and given everything to the success. It's now our goal to assert ourselves in Europe as well."
The league title-winning campaign saw the team amass a then-club-record tally of 75 Bundesliga points, winning more matches (22), scoring more goals (70) and losing fewer games (five) than in any previous campaign.