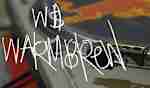 Home is where the heart is for Warm Brew
Red Bull Records' hip-hop trio explain why LA's Westside is their muse in this exclusive session.
The video above contains language some people may find offensive.
The first hip-hop act to sign to
Red Bull Records
are firm believers in regionalism – that your music should represent where you're from. For
Ray Wright, Serk Spliff and Manu Li
that's LA's Westside, an area more usually associated with rock music than rap.
The trio met at Santa Monica High, started rapping on the school bus, and holding Macbook-writing sessions in between football practice. They built up a passionate following around their riotous backyard shows where, as they put it, "Everything was ruined and everyone was happy". The Mission, their first single for Red Bull Records and the first track they perform for this
See. Hear. Now. session
, is very much a musical thank you letter to the city and the people who made them.
Aiming for a progressive take on G-Funk, Warm Brew also want to give rare voice to the black population of Venice Beach and Santa Monica. As Serk told Noisey, "People think it's a paradise, where n****s like us don't live. We're the voice of the people, like, 'We still exist'."
In The Car, the second track in this session filmed at
Red Bull Studios in New York
, captures the sense of old friends head-nodding their way along the coast road together.
Get to know Warm Brew a little better and check out exclusive performances of The Mission (from 3m 26s) and In The Car (12m 6s) in the player above.