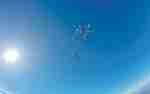 The week Amy Chmelecki soared to new heights with a skydive world record
How the American aerial legend and an international group of female skydivers mastered a vertical jump formation.
In November 2016,
Amy Chmelecki
and her all-women team broke the women's vertical, head-down world record, 6,000m above the Arizona desert.
They had to deal with exploding sinuses, mid-air head kicks, hypoxia and temperatures as low as -25ºC, but the 40-year-old led 65 women through the air into a difficult vertical formation to seal the amazing world record feat on their 16th attempt.
Chmelecki got the skydiving bug when she was 13, but had to wait until the legal age of 18 before she could achieve her teenage dream. She revealed: "I realised it was something you could do all the time, if you wanted. I never looked back."
She headed to Skydive Arizona and soon locked down skydiving, wingsuit flying and tunnel flying as her path in life.
Several national and world titles followed, while Chmelecki racked up world records at a dizzying pace. She was even part of the very first vertical world record with only eight women in the early 2000s.
When women from 18 nations arrived at Eloy in November 2016, Chmelecki wanted to up the ante even further – the world record then stood at 63 for an all-woman formation. Jumpers, such as fellow skydiving stars Anna Moxnes and Sara Curtis, were given two training days, three jumping days and a weather day to go for it.
Each girl is like a piece of a puzzle and we have to figure out how they go together
The Spirit of 65 was two years of planning and Chmelecki explained: "Each girl is like a piece of a puzzle and we have to figure out how they go together in this formation."
It all came down to capturing one frame in the air for the judges to mark and submit as the new world record, which happened finally on the last weather day.