6 30-second action videos you simply have to see
© Eric Parker/Red Bull Content Pool
It's just the good stuff – all action, no fluff. BASE jumping, speedriding, ice climbing and more.
We know what you came here for – the holy s**t moment. The drop, the leap, the flight, the landing.
That's why we went back through our favourite clips from the last few months to find the good bits, and stuck them in six short, sweet video clips below. Want to know more?
Just follow the links to the full story. Enjoy!
1. Aniol Serrasolses kayaks Keyhole Falls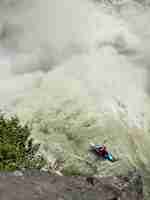 Aniol Serrasolses at the Keyhole
This quirky waterfall in Canada has a curious feature – the opening is shaped like a keyhole. What's more? Once you're headed in, there's no getting out. Fortunately for Aniol, things worked out okay.
Get the full story on the
Keyhole waterfall drop here
2. Speedrider removes skis mid-flight to BASE jump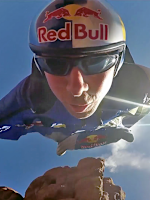 Miles Above rips a sweet wingsuit line
Miles Daisher speed-rides off a cliff, then chucks his skis for a brief paraglide ride, taking him further out from the mountain (and gaining some all-important altitude.) Once he's got enough air under his feet, he jettisons the paraglider for a short free-fall before tossing his BASE rig, and floating down to the snowy slopes below.
Watch the full clip
.
3. A paraglide-powered slingshot skydive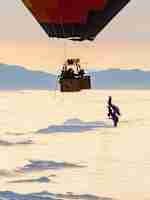 Check out the 'slingshot'
When Horacio Llorens came up with this idea, his head was clearly in the clouds. Ejecting into a skydive from a paraglider – while doing mid-air, over-the-glider flips? Sure, that's totally doable.
Find out
how the slingshot almost didn't work
4. Landing a hang-glider on a plane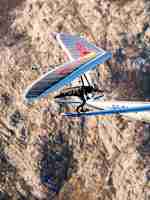 Check out this landing on a plane
Speaking of crazy mid-air stunts, here's another one: landing a hang-glider on a plane wing. Matjaž Klemenčič, the pilot from Slovenia, pulled off what would assume is an impossible stunt late last year.
See the
mid-air meeting here
5. A speedriding moment in the Alps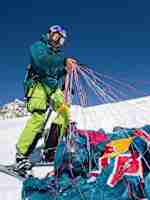 Take a speed-riding line with Aaron Durogati
Aaron Durogati's Peaks Trilogy project took him up and down three iconic peaks in the Alps. While we're certainly impressed with his fortitude in going up, what's most entertaining is his rides down. Buckle up, and enjoy!
See the
full Peaks Trilogy here
6. Climb Niagara Falls – on ice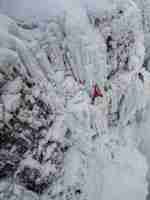 Watch Will Gadd climb frozen Niagara Falls
Will Gadd has climbed some cool stuff – but this is the first time he's climbed what's practically a national monument to two countries. More than a 'stunt', the ice climber helped local authorities learn more about ice climbing – and he scored the line of a lifetime.
Check out
the whole climb here
.