Norways 10 best kitespots
© Making View / visitnorway.com
Camilla Ringvold shares her favourite places to go snowkiting.
Norway is full of amazing kite destinations! From endless flat whites for as long as the eye can see, to deepvalleys between steep mountains just waiting to be climbed.
Camilla Ringvold from Norway has participated in Red Bull Ragnarok several times, and was the female winner of the skiing category last year. She
teaches both kitesurfing and kiteboarding
and is a national champion both on water and on skies.
In 2013 she was one of the first people to ever kite over the Atlantic Ocean. And it doesn't stop there - in june 2014 Camilla also kited over the Greenland icecap, and ended the summer winning Red Bull Battle of the Sund. So it's safe to say that Camilla knows her profession - and that's why we asked her to name her ten best kite spots in Norway:
The terrain in Norway varies a lot from location to location, which makes the search for a new spot really exiting – you never know what you´ll find hidden between deep fjords and high mountains.
1) Hardangervidda
– It´s an amazing area to kite and you will find something for all kinds of kiters here. But there are many spots that are not as famous, but just as great – all in their own way, says Camilla. Check out the rest of her favourites:
2) Hemsedal
Most people come here to ski…or party. Being one of the largest resorts in Northern Europe, with an extensive snowfall each season makes this location an epic spot for fresh pow. The terrain is really fun, and the kiting spots are many. There is a big lake called Eldrevatn for the beginners, but if you climb a bit over the moutntains to the north of this lake, you´ll fast find yourself in scene from Lords of the Rings. Round mountains and lot of fun windlips to play around with. Stop by Elmas Cafe – they have great coffee and the best apple cake you´ve ever tried.
3) Folgefonna Glacier
If you are looking for a view, and maybe surprise a few skiers and snowboarders skinning their way to the very top, Folgefonna it is. It's one of Norways best summer ski-resorts, which mean you can snowkite here in the summer. How cool is that!
4) Maridalsvannet
– You can kite in the middle of Norways´ capital, Oslo. It´s a frozen lake with plenty of snow. There's always many kiters here when the wind kicks in, so if you´re in for a social session and don´t want to travel too far – this is it!
5) Varangerpeninsula
Norway´s most northern county, right on the border to Russia. It has it all – big white planes, tricky terrain, a great view over the powerful Barents Sea. In the middle of the peninsula there is a small hunting cabin called Ragnarok (!). If you are lucky you´ll meet some local natives too, and they have plenty of good stories to tell. The locals are really friendly, and will give you a ride wherever you need to go.
The varanger peninsula is also the host for the 3-day race,
Varanger Arctic Kite Enduro
(VAKE), which starts in Berlevåg, and you pass through Mattevarri before you reach Vadsø and end up in Vardø. The full race will make you believe you´ve kited through 4 different continents, the terrain is in one word – amazing!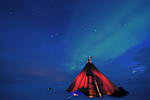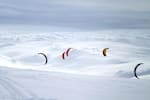 6) Svalbard
You might not know it, but Norway has an arctic island that borders to the Greeland Sea, Barents Sea and Arctic Ocean. If you are lucky to reach this pleace, you are closer to the north pole than to Oslo, the capital of Norway. It´s really in the middle of nowhere. It´s the home of many polar bears, so remember to bring a rifle. It´s mandatory by law to carry one when you travel around on this island. Great wildlife and enourmous terrain!
7) Saltfjellet
Quite far north, around the area of Bodø, you have the mountainpass Saltfjellet. A great spot with magic light – and if you´re lucky, you are just enough far north to get a glimse of the northern light (aurora borealis).
8) Ålesund
More dramatic scenery than around the area of Aalesund is hard to find. It´s just like our postcards; deep fjords and steep mountains. Not a beginner spot, but wow what a view!
9) Gaustadtoppen
It reaches 1883 above sea level, and it´s an easy climb with a kite up. Fun and flat terrain around and no big rocks or trees in the way. When you reach the top, you will be able to see one sixth of all of Norway. The little mountain hut on top is manned, and hosted by Verta - and the roumours says she makes the best waffles in the world!
10) Lofoten islands
The epicentre for northern light. Hundreds of small islands that stretches far out west into the Norwegian Sea. Remember to try some of their local delicassy – dried fish. It´s a great snack on trips. Mountains are steep and tricky, but the view – well, words can not really describe it.
Make sure to check out
Red Bull Ragnarok
for info about the event, articles, and the teaser for this years event.