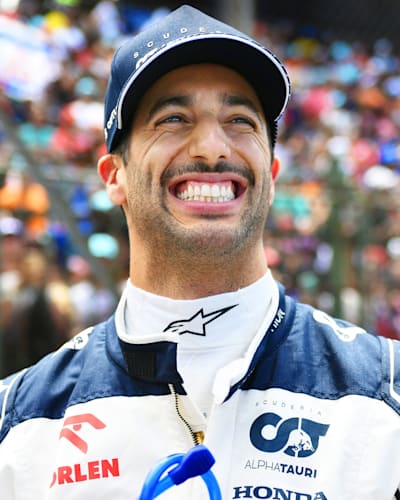 © Getty Images/Red Bull Content Pool
Daniel Ricciardo finds his groove for the Las Vegas Grand Prix
Miles of smiles: After two painful years in the doldrums, Daniel Ricciardo is back on the grid, finding his groove and grinning again.
It was like hearing a forgotten anthem from your formative years, one of those fully over-the-top, punch-the-air bangers that disappear into a dusty corner of memory only to come roaring back one day on the radio, fresh as new paint and twice as bright.
Last month in Mexico City,
Daniel Ricciardo
's drive to fourth place on the grid and race to seventh were the track equivalents of that song. It was a reminder – after two painful years of sputtering fire, six months of competitive absence and two months on the sidelines due to injury – that there's not only life in this seasoned veteran but that the talent that had made him one of F1's marquee stars is back, firing on all cylinders.
It is a storming reinvention for the 34-year-old Aussie. Two increasingly debilitating years at McLaren – and in particular, a final campaign in which he scored 37 points and only finished in the points on seven occasions – had seen the Australian mutually agree to depart the British squad at the end of last year. And with no topline drives available, he elected to take a season-long sabbatical.
In stepped Red Bull Racing, with whom he had spent his glory years, with an offer of an ambassadorial role. The rebuild began, and after a tire test at Silverstone in July confirmed his old pace had not gone away, he was handed a drive at AlphaTauri when Red Bull's sister team ran out of patience with the misfiring Nyck de Vries. And while many looked at his racing return at AlphaTauri as a step backwards, for Ricciardo, that was all the affirmation he needed.
"It meant more than it probably may have seemed," Ricciardo says. "For a lot of people, it was like, 'Oh, he's going to the team that's last in the Constructors' – a team he was already with 10 years ago – and what does he want to achieve out of this?' So I can see from the outside that it probably didn't seem like much, but for me, it was a lot because I really wasn't enjoying the driving aspect of the sport as much as I had. And I've always gone about it with a ton of enjoyment and a ton of excitement."
And, Ricciardo adds, he obviously wasn't getting the results, either. "So that certainly affects a little bit of the way you go about it," he admits. "Six months later, I was really back to where I felt I needed to be. And I just wanted to take it back to the roots, take it back to pre-F1, as if I'm climbing my way back up again, and wanting to feel that level of hunger and determination and just that raw passion. It was a little nostalgic to go back to the team that I had my first full season with, so it brought back a lot of good feelings."
But good feelings alone weren't enough to get his comeback rolling the way he wanted. Ricciardo's first races back, at the wheel of an underperforming and poorly developed car in Hungary and Belgium, were inconclusive. Then, in Zandvoort, a practice crash resulted in a badly broken left hand and two months on the sidelines.
Ricciardo's recovery took longer than expected. Initially, he and the team thought he might return three weeks after the crash at the Singapore Grand Prix, but surgery on his hand revealed the extent of his injuries, so Singapore became Suzuka, Qatar and eventually the US Grand Prix, a fitting venue for a driver in love with racing in the US. "It was a real, hard deadline," Ricciardo says. "Austin was eight weeks from the injury, and I just love it in Austin. The track is amazing. I've talked about it for so long, but just everything – the atmosphere, Austin itself; I think it's such an authentic city. It really, really speaks to me. And yeah, to see the sport grow over the last few years in the States – the sport has taken off, and I love to see that."
I want to make sure I'm seen as a race car driver who's still hungry and determined and not someone who's just here for a good time
Ricciardo's passion for racing in the United States goes all the way back to his childhood in Perth, being fascinated by NASCAR races on the family TV and being equally entranced by the culture of US racing. "I was definitely a fan," he says. "It's no secret that one of my biggest heroes was Dale Earnhardt. I was very much into NASCAR, IndyCar; Champ Car in that era also came to Australia to race at Surfers Paradise. But there was also something about America and the way they went about it – even the anthem. I love the anthem; I love that it creates a bit of an energy and an atmosphere that I was just drawn to."
And in return, Americans have fallen in love with F1 (and also with Ricciardo). The burgeoning interest in the sport is, he says, a combination of exposure and explanation. "I remember at school there was probably one other kid [apart from me] watching it," he explains. "We would talk about it, but no one else would really know what we're talking about. So, one thing is definitely the accessibility of F1 now. And then, thanks to some new technology, different cameras and analysis, people can appreciate the sport and understand that it's not just like driving your car to work."
But while Ricciardo is thrilled that F1 has crossed over in the US – and that customs officials no longer confuse his occupation with NASCAR – he admits the Drive to Survive effect of F1 has its downsides. "I think with my personality, and also just having some fun with the sport, that [side of things] probably got a little bigger, but first and foremost, I see myself as a race car driver, not an entertainer," he says. "It is funny sometimes because people come up to me and say, 'You were great in that season,' and I'm like, 'Was that racing season or Drive to Survive season?' Through all of this, it can maybe get away from you, so me having a little time off made me figure out what I'm about moving forward and how I want to go racing – just removing a few things and going back to basics. I want to make sure I'm seen as a race car driver who's still hungry and determined and not someone who's just here for a good time."
That determination was clear in Mexico City and later in São Paulo. In Brazil, Ricciardo's self-criticism – first in response to an error in qualifying that relegated him to 17th on the grid and then his post-race fury at being a lap down throughout thanks to a Lap 2 red flag – all pointed to a driver who is both enjoying his racing and determined to make it count. Ricciardo is wary of hype, however.
"In this sport, you've got to kind of keep backing it up," he insists. "It's nice to have a good weekend, but to just have one, in my mind, is not enough. Yes, having a strong weekend from start to finish spoke something and it was something that obviously I struggled with in the last year or two. But I also think that this year was just about me rebuilding myself again and trying to find that old form, or that old me."
The renewed hunger and the clear indication that the pace is still there have all led to lurid speculation that Ricciardo might be destined for another stint at the senior team. On that topic, the Australian is keen to squash those rumours before they bloom further. "All the stuff around my contract next year has been related to AlphaTauri, so that's honestly as far as that goes," he says. "Personally, having a weekend like Mexico was just good for the soul. And also for the team, you know?
I haven't been here long, but for them to be 10th in the Constructors' and to jump two places in the space of two weekends was huge. So I think that kind of creates a very happy atmosphere around everyone. I'm happy doing that and to keep charging on."
Now, back in the US, his home away from home, Ricciardo is set for drama in Vegas and ready to let loose. "I'm expecting something over the top," he says with his trademark laugh and another smile. "It's going to be something we've never experienced before."