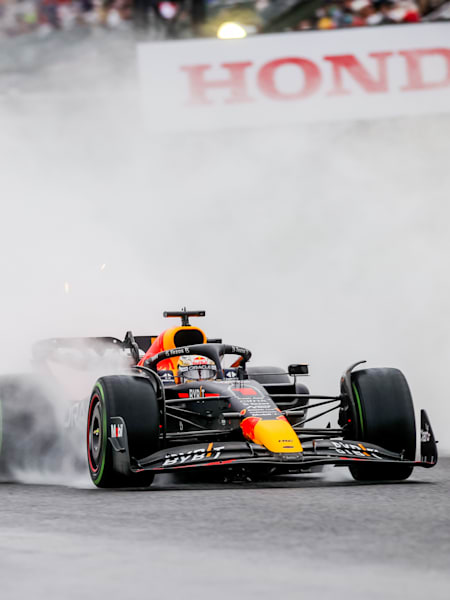 © Getty Images/Red Bull Content Pool
How could weather impact F1 drivers at the Las Vegas GP?
Go back to basics and learn all about how weather conditions can impact F1 races and what teams like Oracle Red Bull Racing do to ensure their drivers stay ahead of the game.
When
Max Verstappen
clinched his second-consecutive Formula One Drivers' Championship, it wasn't a perfect race. Heavy rain disrupted the
2022 Japanese Grand Prix
, causing it to be red-flagged after two laps and the subsequent flooding delayed any attempt to restart the race for over two hours.
In the end, Verstappen led the field with little contest and came away with the win, taking home the world championship title in the process. The Dutchman had carved out a 113-point lead in the standings with only 112 points left on the calendar.
Verstappen is known for being particularly good on rainy race days. He attributes it to a lot of hours spent driving in wet conditions. "Growing up in Belgium and Holland, it rains a lot, so we never like turned around when it suddenly started raining. We would just put on rain tyres and practice, and that just helps a lot. You get a lot better understanding of what you have to do when it rains," he said.
With 23 races in the calendar for the 2023 Formula One World Championship season spanning from March to November and five different continents, there are a wide variety of weather conditions that teams must overcome. It's a necessity for drivers and their teams to be prepared for any type of weather that will greet them.
Before we get to the cars and the drivers, we have to talk about how the weather can affect the track itself.
In F1 history, race weekend temperatures have ranged from 5°C) to 42.5°C. The general rule of thumb is that the hotter day, the less grip there is on the track. This is because F1 tyres are already heated when put on to the cars and generate more heat as they run on the track, so when a track's surface is also really hot, it can cause the tyres to overheat and wear out much faster.
At the other end of the scale are colder temperatures and if the track surface is too cold the tyres require more energy to get going, causing them to lose pressure much more quickly.
When there's moisture on the track, it obviously reduces the grip and traction that F1 cars have. To account for rainfall and a wet racing surface, teams make their own modifications to the car to ensure the best result (which we'll get into later).
Rain can also severely affect visibility. If the rain is heavy enough, it can become really difficult for drivers to see the track, a situation made much worse by the spray that other drivers are kicking up during the race. Beyond a certain point it becomes a safety hazard that may cause races to be postponed or even called prematurely, like the
2021 Belgian Grand Prix
.
Since weather can have such a massive impact on the race, drivers and their teams need to be realistically prepared for whatever Mother Nature throws at them on a given race weekend.
The overall goal for a team is to find a balance between maximizing airflow to keep the car as cool as possible and maximizing the car's power output. If a team focuses too much on increasing airflow, the car becomes less aerodynamic, but if a team focuses too much on increasing the car's energy output instead, the components could overheat and malfunction.
In dry conditions, F1 drivers use dry or 'slick' tyres. These have no tread, making them the fastest tyre available in racing. These tires can range in grade from C0 (hard) to C5 (soft). Harder tyres have less grip on the track but are more durable, while softer tyres have more grip on the track but are less durable.
These tyres are only good when the track is dry however since they don't have the grip to cut through any standing water.
When it's raining, teams run wet tyres, which are equipped with tread patterns similar to those on regular car tyres. They're specially designed to displace the maximum amount of water possible and prevent the car from hydroplaning. What wet tyres boast in traction, they lack in speed – they're the slowest type of weather-specific tires that a Formula One team carries.
Just important as what goes on outside the car, is what goes on inside it. The location of the cockpit, where the driver sits, can reach up to 60°C.
Four factors increase cockpit heat:
The engine is near the cockpit, which generates significant heat.

The brakes produce heat up to 1,000°C.

The aerodynamic design of the car actually directs heat into the cockpit.

There is a lack of airflow inside the cockpit itself.
A major area where F1 regulations and teams direct extra research and development is into drivers' race suits. The suits are designed to provide fire protection, temperate control and such like, but outside of using hydration systems and installing cooling pads in their suits, there's not much the drivers can do to stay cool in the cockpit.
Driver visibility is another hurdle teams have to clear at times. From rain to smog or the lighting used for night races, F1 racing can become very dangerous if the driver can't properly see where they're going. Helmets are fitted with visors that are water-resistant and have a special coating to ensure that rainwater doesn't soak into the helmet. The visors also protect drivers from any optical or facial damage from flying debris.
It's also important to note that the FIA sanctioning body will call a race off or put it on hold if the rain creates unsafe conditions.
Driving strategies change dramatically based on the weather conditions.
For example, when there's standing water on the track, teams will start with wet tyres to ensure that their cars have the traction required to not slide off the track instantly. However, once a track begins to dry out slightly it really becomes a chess match between teams, who have to decide when to switch to the faster intermediate tyre (a mix between wet and dry designs and compounds).
If they make the move too soon, they could lose traction on the wet parts of the track and start to fall behind, but if they make the move too late they risk burning up their wet tyres and teams who've already made the switch could begin to separate themselves from the pack and create a gap that's impossible to recover from.