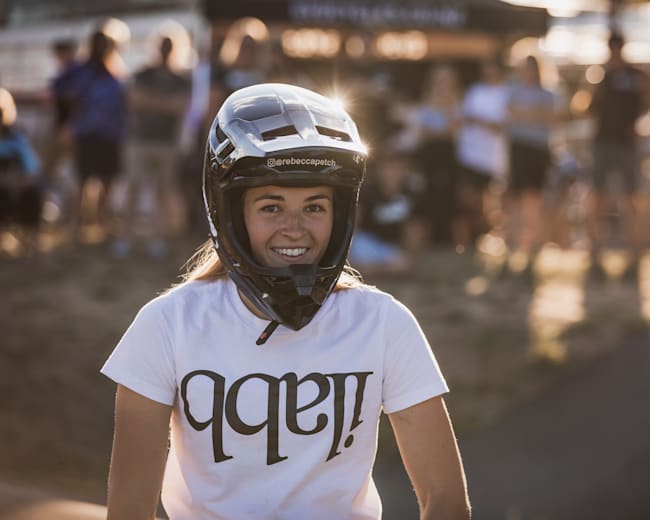 Meet Rebecca Petch, the kickass woman who rides pump track
© Red Bull Content Pool
Register now for the Cambridge Pump Track qualifiers to take her on.
As we gear up toward the Red Bull UCI Pump Track World Championship Qualifiers in Cambridge on March 20th, we sat down with BMX champ, Rebecca Petch.
For Petch, biking is in her blood. She followed the footsteps of her big brother and at the age of three started her BMX career.
But it wasn't until her final year at high school that she chose to ditch netball and focus exclusively on the riskier sport when she started to reach BMX's elite level.
"My grandparents decided to get me a bike and it's stuck since then. My dad did it for a little bit as well so it's quite a good family sport," she says. Her brother chose to continue with rugby instead.
She was initially drawn in by the fun family aspect of BMXing and the thrill of learning new tricks. Being one of the only girls at her club meant she'd often have to race against the boys but is excited by how the sport has developed over the years.
"Bike sports tend to be outside of the 'normal' sports for girls, when I started, I was one of a few, now when I go down to the club it's 50/50 male and female, which is really exciting to see more girls and women giving it a go."
Petch, who is hoping to qualify for the 2021 Tokyo Olympics in June, is hoping COVID-19 won't provide too many roadblocks to the games.
"At this stage, we are just trying to decide if we go to the World Cup in Germany this year, which would influence the selection for the games."
Returning for her second year, Petch is looking forward to the Pump Track qualifiers in Cambridge.
"Pump track is so much fun. It's a chance to hone your skills as opposed to gas yourself as you do in BMX. There is a lot of variety and you can just go for it without the high pressure."
There has been an immense growth in pump track – with its unique and fresh approach to competitive biking on a global level it's easy to understand why. The head-to-head format at Red Bull pump track makes for thrilling spectator action as contestants' race.
If you think you have what it takes to win the coveted world finals ticket and be amongst the top 30 pump track riders in the world then register for your local qualifying event now!