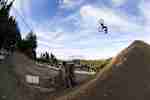 Here's what you need to know about the Crankworx Rotorua Slopestyle
© Graeme Murray/Red Bull Content Pool
As the world's biggest and loudest series of bike festivals return, here's all the essential information on how you can enjoy the opening round in New Zealand.
"Are you going to Crankworx?" is probably one of the most-asked questions among those who value attending mountain bike events. Once, it was localised to a specific corner of Canada, but now it's a truly global tour, as the world's biggest bike festival continues to spread to other parts of the world with four events.
New for 2018
The Crankworx organisation have made a structural change to the slopestyle competitions at this year's four festivals after discussions with the Freeride Mountain Bike Association (FMBA), the governing body of the sport.
Both organisations have agreed that the four Crankworx events – Rotorua,
Les Gets
,
Innsbruck
and
Red Bull Joyride at Whistler
– will become the Crankworx FMBA Slopestyle World Championship and be the one elite-level series of slopestyle events.
The Triple Crown of Slopestyle lives on
Prize money of US$200,000 will be awarded throughout the Crankworx FMBA Slopestyle World Championship season, with the champion receiving the crown at the end of the season, at Red Bull Joyride. The mystique of the Triple Crown of Slopestyle lives on, though, with Crankworx continuing to offer an additional US$25,000 prize to any athlete who can win three out of four Crankworx Slopestyle competitions in one season.
An all-new course
The slopestyle riders will be throwing down on a new course in Rotorua, which will incorporate elements of both old and new. The course has remained untouched over the past three years, but for 2018 designer Tom Hey will re-imagine the course around the main wooden structures that he and Kelly McGarry designed. Watch out for our course preview POV video later in the week.
What happened at Crankworx Rotorua 2017?
Tempted to tune in and watch this weekend? Check out the extended highlights of last year's incredible slopestyle finals below.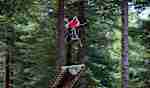 So who's going to win this year?
One thing that's virtually guaranteed when it comes to any Crankworx event is that the mountain bike royalty in attendance is pretty comprehensive. The promise of Southern Hemisphere summer trails and the chilled-out New Zealand vibes are all too alluring. Big event, bigger prizes, but who's going to win them?
Nicholi Rogatkin's
is a name that's dominated slopestyle headlines for the past couple of seasons. The man from Massachusetts shot to fame when he won the 2013 BMX Dirt Worlds and graduated to big wheels the following season.
Watch Rogatkin in CWX action in 2017 in the below player.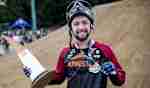 Nicholi Rogatkin winning run from CWX Rotorua 2017
Rogatkin brings with him a seeming endless bag of high-amplitude, highly technical combination tricks. While some riders finesse the 'click' of their tricks, the American focuses instead on adding an extra spin or flip to them. More often than not, if he lands the run that he has in his head, then he'll win. Brandon Semenuk's win at Red Bull Joyride last season ended his hopes of the Triple Crown, however.
A definite crowd favourite,
Brett Rheeder
is a rider in many ways caught between two titans,
Brandon Semenuk
and Rogatkin. He's the complete package, with technical tricks, world-class style, and he can also send it on a big bike at events like Red Bull Rampage.
See Rheeder in action in 2015 in the below player.
Crankworx Rotorua Slopestlye 2015 Winning Run
His big problem really has been the dominance of the aforementioned pairing at the big events. He won the opening two rounds of the Crankworx series back in 2015, and a return to that kind of form this weekend in Rotorua would be most welcome.
Anyone else to watch for?
Yes, loads. The level of slopestyle talent is higher than ever and Rogatkin's BMX-influenced trickery seems to be spawning a new breed of spin-happy youngsters. Keep an eye on the new European wave of talents like
Torquato Testa
,
Diego Caverzasi
and
Eric Fedko
. Sadly, young Swedish sensation
Emil Johansson
won't be in Rotorua, as he's recovering from injury.
Add to that list established names such as
Szymon Godziek
,
Tomas Lemoine
,
Thomas Genon
and
Anthony Messere
, and you start to get an idea of just how rich a Crankworx results sheet can be.
Full rider list for Rotorua
Where and when to watch Crankworx Rotorua 2018
The Slopestyle finals from the beautiful Whakarewarewa Forest will be shown live on
Red Bull TV on Saturday, March 24
and on RedBull.com at the following times around the world:
USA: 7.30pm (PT) 10.30pm (ET) on Friday, March 23
Check out more Crankworx content below