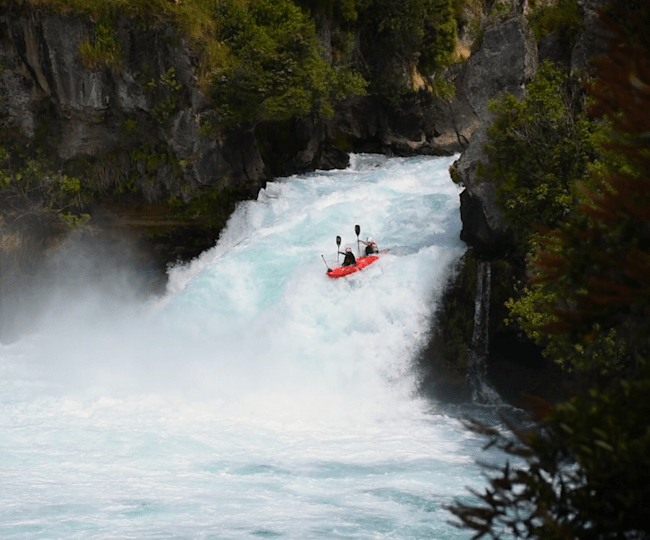 © Flow Motion Aerials
These kayakers went down a waterfall in a tandem
French kayaker Nouria Newman shows us what it's like to paddle down Huka Falls in a tandem kayak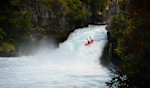 Nouria Newman and Mike Roy kayak Huka Falls
A technical entry, huge amounts of water and an 11m fall. Huka Falls may have the reputation of being one of the highlights for tourists in New Zealand, but it's also a staple extreme kayaking spot.
This winter,
Nouria Newman
spent three months in New Zealand. Between two slalom competitions, she took the opportunity to tackle a nice little challenge: get down these falls in a tandem kayak with
Mike Roy.
She tells us more about the project:
"Huka Falls is a pretty popular spot in New Zealand. Each year, thousands of people come to admire the immense quantity of water – between 70 and 300 cubic metres per second – that gushes into the canyon before becoming an 11m-high, extremely powerful waterfall. Thanks to its popularity among tourists, it's very easy for kayakers to just find a spot on the parking lot, slalom between the selfie sticks and get in the water."
"Huka Falls may be easy, and the drop may only be 11m, but we mustn't underestimate the technical difficulty of the rapids. After a technical entry, you absolutely have to jump over a roller that crosses the whole river.
"A few seconds later, all the water rushes into the Pencil Sharpener, just upstream of the bridge. It's a quick and steep part that finishes with a v-shape wave and tricky currents. Once done with the Pencil Sharpener, you have to position yourself on the left-hand side of the river, manage a series of big waves and rollers before dropping in to the last fall. Any mistake can have major consequences: once you're into the canyon, there's no way back."
Setting up the project with Mike Roy
"Mike is one of my best friends and one of the people I trust the most, on and off the water. We went down the Grand Canyon of the Stikine and many other rivers together. He also was there to help me after a big car crash in British Columbia and supported me in rough times.
"When I spoke to him about the idea of going down Huka Falls in a tandem kayak, I didn't know if it was a good idea. It's a high-consequence rapid and it's already relatively difficult when you're on your own. With two people, the boat is longer, heavier and a lot more complicated to manoeuvre.
"But he didn't hesitate for one second, he accepted right away. We borrowed a tandem kayak to get some practice and trained on the Kaituna River. We synchronised really quickly and went down Kaituna River with surprising ease. Confident after some good lines, we decided to give it a try at the Troutpool Falls. It's a small waterfall, but extremely technical. If you get stuck at the landing, it's not going to be fun at all. Our line was a bit marginal, but our reactions were the right ones: everything went well."
Being able to count on one another
"Kayaking is definitely perceived as an individual sport. We often focus on single, individual performances: a big drop, a technical rapid, a nice line… but none of that would be possible without a group.
"In extreme kayaking, the paddlers must be able to count on one another: to access the river, talk about a line, take the right decision, set up safety measures… Even when you're alone in your kayak, it's a primordial instinct to work in a team to limit the risks on the river.
"Going down rapids in a tandem is a way to push this cooperation even further: when you're two in the same boat, perfect coordination and absolute trust in one another is more necessary than ever."
"It took us two attempts to properly go down Huka in the tandem boat. During our first descent, we had a hard time synchronising our paddle strokes. There were a lot of waves close to one another and we couldn't always brace at the same time.
"On top of that, we were getting a lot of water in the face in the front of the kayak. That meant I had a hard time seeing where we were going, but Mike managed to keep our lines quite well. We managed to go through it ok, but our lack of synchronisation didn't allow us to have a perfect line on the final fall. Instead of doing a nice "boof" – which means to jump over the falls – we fell with the water.
"With a boat weighing about 120kg, the impact was quite violent in the front. Our descent wasn't perfect, so we decided to give it another go.
"The water level went up just before our second run: going from 80 cubic metres per second to 115, the rapids became even more complex. The waves were bigger, the current was more powerful, everything was faster. We were a bit nervous, but also more determined to correct our mistakes and get a perfect run. After our first descent, we knew a bit more what to expect. We had better coordination and our second run went down perfectly."
"Right now, I'm preparing for the French slalom team selection. I have a bunch of other projects, but it'll depend on my results, on my availability and on the water levels. I actually can never focus on only one discipline. I love kayaking way too much to limit myself to only one type of navigation. I love to compete, but I also like to kayak with friends or go on an expedition."