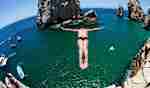 Red Bull Cliff Diving Mexico 2017 teaser
It's going to take some effort to beat 6-time champion
Gary Hunt
in the 2017 Red Bull Cliff Diving World Series – but where better for
Jonathan Paredes
of Mexico and America's
David Colturi
to practise than at the famous Arch of Cabo San Lucas?
Gracefully diving from 24m into the ocean, the supremely fit athletes joined forces ahead of what might be the most unpredictable season in Red Bull Cliff Diving history.
Every since the pair qualified for the World Series in 2012, they've been battling side by side. This year Paredes is hoping to improve on his runner-up position in the 2016 series, while Colturi is coming back from a gnarly injury.
"It's my first time here in Cabo San Lucas. This place is amazing for cliff diving," explained Paredes. "I'm super happy to be back in Mexico."
Born and bred in Mexico City, Paredes lives and trains mainly in his wife's hometown of Madrid, Spain, but returns to his roots on a regular basis to recharge and make use of the country's natural cliffs.
With the 2017 World Series only five weeks away, the preparation for dives from up to 27m and impacts of 85kph is mostly about fine-tuning what has been worked on during the off-season.
Paredes added: "I tried a new dive a couple of weeks ago, which I've been working on from 10m all winter and I'm going to give my best this year for sure," explains the diving perfectionist. "My expectations are bigger than last year. I want to fight for the title again, against Gary [Hunt]. I'm ready for the season."
LA-based Colturi on the other hand, spent most of his winter with rehab training after he had to withdraw from the World Series and undergo shoulder surgery last October. His comeback is planned right down to the last detail and does not leave room for doubts – the 28-year-old twist master is committed to step it up again.
"I really focused and changed my game plan," he admitted. "I was working smarter and harder in a lot of situations, trying to dial back the numbers but dial up the intensity and the focus on the mental aspects of it," states the 8-time podium finisher, "I feel like this is going to be my biggest and best seasons and I need it coming off of a not so great 2016."
The Red Bull Cliff Diving World Series returns on June 24. For more information and amazing videos visit
cliffdiving.redbull.com
.