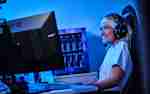 This is how mimi has blasted her way to the top of the CS:GO scene
Discover how mimi made a name for herself in the Counter-Strike: Global Offensive scene in her episode of esports documentary series, Unfold.
Michaela 'mimi' Lintrup
, is one of the best Counter-Strike: Global Offensive players in the world. Active as a professional since 2013, from the Copenhagen Games to Dreamhack, she's played and won on the biggest stages.
However, her road to success hasn't been easy. As she tells us in the latest episode of
Unfold
, her successes have often been overlooked. Yet still she fights back and keeps winning tournament after tournament, silencing the doubters in the process. In the film, we take a look behind the screen at the life of a superstar Counter-Strike player and find out how and when she started playing the game. Hit play at the top of the page and dive in.
Be sure to download the free Red Bull TV app and catch the esports action on all your devices!
Get the app here
Mimi joined her first team, Firstblood.DK, when she was just 15 years old. Later that year, she was picked up by Team LDLC.com Female, a French powerhouse team. A year later, she had a 3/4th-place finish at the Copenhagen Games, picking up her first prize money.
She then joined Games4u.se and WeRunThisPlace before finally joining Team Secret, where she saw most of her success. Within a year, she and her team were dominating the women's CS:GO competitive scene, winning an astounding seven different golden medals: among which were the Copenhagen Games twice, eSports World Convention 2016 and the Intel Challenge Katowice twice.
The first-place finishes continued after leaving Team Secret. Under the banners of Assassins, Copenhagen Flames Female, Team Origenem and her current team, XSET, she's dominated in every single female CS:GO tournament. Outside of professional Counter-Strike, she's also launched a successful streaming career, currently sitting at 203,000 followers on Twitch.
In a country where many Counter-Strike champions are born, mimi was introduced to Valve's classic tactical team shooter by her older brother. In the video, she explains that she was angry at him for showing her the game. She thought he must have been hiding it from her. In her own words, "Counter-Strike was absolutely my life, from the beginning." When she was introduced to the game, she didn't know that esports was a thing, yet a couple of years later she would be the one shining on stage and winning trophies. In her professional career, she's travelled around Europe pursuing her goal to be the very best.
Counter-Strike was absolutely my life, from the beginning
Being the best at something always brings out the people who want to tear you down. On top of that, in a male-dominated scene, women are all too often the target of harassment and hate. Mimi tells us "it can suck". However, even with all the hate, she never backed down and continues to silence the critics by winning more trophies and growing both her social presence and streaming channels. She explains that through her play, she's inspired other women and girls to pick up the game. "Comments like 'I started playing Counter-Strike because of you' are probably the best you can get from anyone."
Mimi explains that Counter-Strike changed her life. "I used to be a very shy little girl," she comments in the video. She didn't want to perform in front of people. However, she explains, that due to the nature of competitive esports, thousands of viewers are always watching you perform. Playing professional Counter-Strike helped her climb out of her shell, to become more confident and to be able to say what is on her mind.
The Danish CS:GO superstar wouldn't have done anything differently if she had the chance to start her career all over again. She's happy where she is and continues to enjoy growth in both her competitive performance and social channels.
For more awesome insight into Mimi's life, make sure to check out the Unfold episode at the top of the page to see how she's living her life as a CS:GO pro.