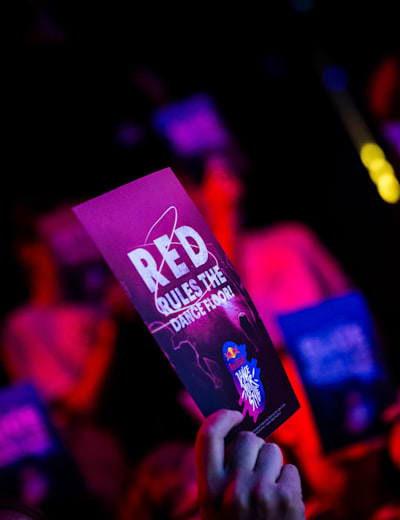 Este é o Red Bull Dance Your Style em 10 passos de dança
© Dmitriy Tibekin / Red Bull Content Pool
Vale tudo no Red Bull Dance Your Style, então este é o momento de aprenderes a descrever o evento usando apenas os nomes dos passos de dança.
O Red Bull Dance Your Style é a competição de dança de diferentes estilos que faz as coisas acontecerem de forma diferente. É o lugar onde os bailarinos solo podem surpreender e onde o DJ não está sujeito a nenhuma regra, então aqui está uma lista de passos de dança que mostram o que é o evento.
Se há um movimento que capta a essência do evento, é o The Party Machine. O Red Bull Dance Your Style tem tudo a ver com festa e a conexão com as pessoas ao seu redor. Os que gostam de festa são definitivamente os que saem a ganhar nesta competição.
Shuffle é um nome que se refere a diferentes movimentos em diferentes estilos de dança. Levando para o lado metafórico, estamos a baralhar todas as cartas que representam os estilos de dança num grande baralho de bondade e sempre gostamos da surpresa quando os dançarinos colocam todas as danças na mistura.
The Gucci was inspired by presenting your newest Gucci clothing and accessories. Fashion is still essential at a competition like Red Bull Dance Your Style and you'll see dancers rock some cool gear at events.
The Steve Martin is named after the American comedian who we know from movies such as The Father Of The Bride and The Pink Panther. A great sense of humour and being able to bring fun to your audience is a key skill if you want to win Red Bull Dance Your Style, so The Steve Martin needs to be on the list.
Talking about personalities, Bart Simpson doesn't care about rules and he doesn't care what his parents think either. Like Bart Simpson, Red Bull Dance Your Styles dares to do things differently by mixing styles and letting the audience decide who wins. Who needs extra judges when hundreds or even thousands of spectators can call the shots?
Dancing makes us happy. It eases stress, helps us wind down and brings us closer together. It is a tool of relief – and for some of us, it's a form of meditation.
We've already talked about character, style and fashion, but at Red Bull Dance Your Style we also see real birds of paradise who defy categorisation and being put in boxes. This is one occasion to celebrate characters without equal, no matter if it is about looks, opinions or just moves.
The Old Man is a move from the Boogaloo style. Legend says it was inspired by an old man who moved a certain way while supporting his weight with a cane. Symbolically speaking, this move stands for the fact that age is nothing but a number. At Red Bull Dance Your Style, the competitors range from teens all the way up to dancers in their 40s. Style and finesse age well with dancers.
In a monastery, everything is about faith. At Red Bull Dance Your Style, everything is about the dance. Everybody comes together to celebrate a communion with like-minded people. There is no politics, only skills.
The Diamond stands as a symbol for something precious and valuable. The unique combination of mixed dance styles, mainstream music, crowd-voting and party-vibe makes Red Bull Dance Your Style a diamond in the world of dance competitions.