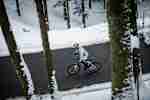 Winterproof your bike (and yourself)
© Marcelo Maragni/Red Bull Content Pool
It really isn't that hard - here's how to properly equip your bike and yourself for the cold, wet and sometimes icy commute.
Many people choose to commute all year round, even during winter. It's a great way to get your daily exercise in, some fresh air and escape traffic and busy public transport. As long as you've got your bike and your wardrobe fully equipped, winter commuting isn't really that hard. Here is all you need to know before winter properly sets in.
HOW TO PREPARE YOUR BIKE FOR WINTER
Depending on where you live there will be more or less snow and ice on the roads during winter. For some, the main issue might be rain and slippery leaves, whilst for others it might snow and black ice.
Choosing the right tyres for your commute will be vital
to not end up face-over-handlebars when it gets slick. It's not a bad idea to get tyres that are slightly wider than your normal ones, as it will give you more stability, but the main difference is if they come with or without studs.
If the temperature in winter occasionally (or always) drops under 0, it is worth getting a pair of studded tyres to minimise the risk of crashing. They work best on hardpack snow and ice, but if you live in a place where snow comes and goes it is still a good idea have them on if you plan on commuting all through winter.
They are noisier and roll slower but they will save you from icy falls.
There are different tyre models with different amount of studs to choose from. The rule of thumb is that a tyre with 120 studs roll faster but has less grip than a tyre with 240 studs, which has more grip but rolls slower. A good tip is to put a tyre with 240 studs on the front and one with 120 studs on the back, as this will give you a combo of grip and rolling resistance.
Manufacturers recommend that you ride your studded tyres on asphalt for about 40 km before using them on snow, so that the studs get a chance to properly attach.
Winter tyres (without studs)
If you rarely (or never) get ice and snow on the roads in the winter you will most likely be facing rain, wet surfaces and slick leaves instead. No worries. What you need is to swap your summer road tyres for some tougher, more heavy duty ones that will provide better grip and give you more confidence.
Choose a tyre with a compound that is optimised for wet weather and low temperatures and has a tread pattern that provides extra grip.
Most tyres designed for winter commuting also come with puncture protection, as there tends to be more debris, glass and other bits washed up on the cycle paths in winter.
A good tip is to look in the cyclocross section if you can't find any good road tyres, as they are made to go off-road.
If you haven't already put mudguards on your bike, now is the time to do it. They will keep you clean and dry as well as help keep mud and grit of your bike. There are three types to choose from:
Traditional mudguards:
If you don't want to have to think about mudguards every time the weather changes you should probably go for the traditional ones. They are
the most practical option
as once you have installed them, they're on for good (or at least, they are a hassle to take off). They provide the best protection as they cover the largest part of the wheel and are perfect for the everyday commuter.
Clip-on mudguards:
If the mudguards annoy you whilst riding or they don't really go with your cool commuter bike image a good compromise is to get clip-on ones. You can
easily take them on and off when the weather changes.
They are lighter and more versatile than traditional ones, but don't protect as good as they tend to cover less of the wheel.
Fender type mudguards:
If you're a proper hipster or style nerd and feel like even the clip-on ones are too much for you, there are small "fender" type mudguards (often used by MTBers) that you can a
ttach in-between the fork and underneath the saddle to stop the worst spray from hitting you.
They don't from protect you from all of it, but do a good job of keeping the worst of your face and back.
Once the never-ending summer light has faded it is time to properly think about getting some lights and reflectors for your bike.
According to Swedish law
y
ou're required to have a white light and reflector at the front and a red light and reflector at the back, as well as a white (or orange) reflector on the side of the bike.
There is a huge market for
bike lights
that are easy to take on and off and most are rechargeable by USB cable, so you don't have to deal with tricky, weird batteries. How strong your lights need to be depend on what type of riding you will be doing:
Up to 50 lumen:
If you mainly ride on lit-up bike paths and roads a light that has up to 50 lumen will do just fine. It will make sure other drivers and riders see you.
50 to 100 lumen:
If you ride on paths or roads that are not very well lit-up and need the light to show the path or road in front of you, you need a stronger light. Something between 50 and 100 lumen should do the job.
100 lumen and over:
If you are a proper hardcore rider and take the unlit forest or gravel road home, you will best off with a light that is stronger than 100 lumen to be able to see and enjoy your ride properly.
Washing your bike is not the most fun thing in the world, but it's important and will increase the lifespan of your bike. To keep it simple,
make sure your chain and your gears are well looked after, as well as your brakes.
Rinse them off to keep mud, grit and water away. Lube your chain weekly and dry of any excess with a cloth.
Make sure your bike is
stored in a dry and warm-ish place
like a cellar, a garage or a hallway. Due to rain, road salt and extra debris on the roads your bike will get more of a hammering during winter, and if not looked after properly, it will soon start to rust. Also, the cold can cause your brakes to not bite as hard and your gears to skip when trying to change gear.
Winter tyres often have good puncture protection but its always good to double check from time to time so that there is no glass or other sharp debris stuck in them.
HOW TO PREPARE YOURSELF FOR WINTER
The best way to dress during the colder months of the year is to use
a layering clothing system of baselayers, mid-layers and a windproof/water proof shell.
It works like this: a baselayer will move perspiration away from your skin, an insulating mid-layer will absorb perspiration but still hold your body heat, and an outer shell layer will keep external moisture and wind from cooling you.
Wearing layers is not only the easiest way to dress, since you can easily take off or put on an extra layer whilst out riding, it also means that
you can wear the same active wear all year round
– just wear more or less depending on the temperature.
There are so many different smart-looking layers, in different types of materials, different thicknesses and with different functions, it is easy to get lost in the baselayer-jungle. The main differences to keep track of is the material that it's made of; synthetic or wool and also how thick it is.
Synthetic baselayers
are fast-drying, cooler and durable. However they do absorb smell more and needs washing more often.
Baselayers in wool
are warmer, keep their insulating properties even when wet, don't smell and doesn't need washing that often. On the down side, they're not as quick drying and they are more expensive.
Remember that a good baselayer should have
a tight fit
so that it can capture moisture without any seams to chafe or irritate your skin.
Wind is probably a cyclist's worst enemy during winter – it makes any beautiful winter day miserably cold. That is why windproof gear is the one for commuters.
Windproof gear protects against the wind (and light showers) whilst remaining more breathable than a waterproof.
Most jackets and trousers for cyclists are completely windproof on the chest and on the front of the legs (where the wind will hit you whilst riding), whilst having a more breathable mesh material on the back (for increased breathability and comfort). Some even have a fleeced lining. Perfect for cold commutes!
Waterproof gear is perfect for when it is raining, any other time it is often too warm to ride in. Modern waterproof material are become increasing breathable, but due to its main function (to keep water out) it still is a lot less breathable than a wind jacket or a Softshell jacket.
Remember to
get a size slightly too big
(both jacket and trousers) as they'll have to fit on top of your other clothes and you don't want to restrict your movement on the bike.
GLOVES, HATS & NECK-WARMERS
These small but vital essentials will make a huge different in cold weather.
Cold hands
tend to be a problem for many. It is hard to find gloves warm enough that still give you a good sense of grip around the brake lever. The best thing is to try around a little until you find a pair that suit your hands. A good tip is to layer up on your hands, just like on your body. Get some fleece liner gloves and some windproof gloves to go on top.
As for
cold ears
, a thin woollen hat or headband is perfect to keep them warm. Wool has got good insulating properties, is breathable and is soft against your skin. Some people wear a helmet cover to keep their head warm, but it is so far away from your head it doesn't actually do much. A thin hat is a much better option.
A
woollen neck warmer
to protect your neck and lower face from the cold is essential if it's really cold.
Shoe covers will revolutionise your commute
. Easy, simple and so clever. Just put them on top of your normal shoes (boots, trainers or bikes shoes ) and get instant protection against the wind and/or rain. There are different models depending on what type of shoe you normally ride to work in, and they also come in different materials and thicknesses: windproof, waterproof and there are even ones with insulating properties. The quickest way to warm feet.