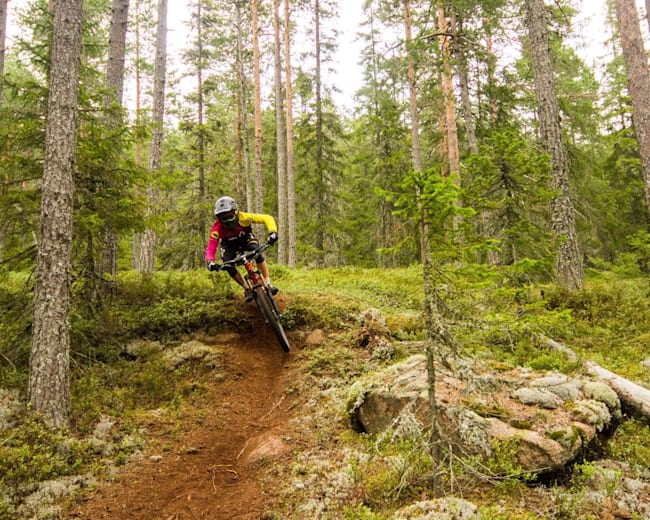 How to keep your Enduro motivation on top
© Juavess
Swedish Enduro Series Champion Simon Carlsson shares his best tips and bike skill exercises to keep your training motivation on top.
2020 could be the strangest season to date. With racing put on pause, riders all over the world are itching to get in-between the tape again, meanwhile trying their best to keep on top of their training regimes. But with no clue as to when racing will start back up again, it can be a little tricky to keep motivation high.
One person who's race plans and dreams have been put on hold is
the 2019 Swedish MTB Enduro overall winner Simon Carlsson,
who's been training all winter to step up his game in the European Cup, but now finds himself in race-limbo together with the rest of the world.
To stay motivated he's used a few simple but clever hacks to see him through these unknown weeks of training,
and he keeps busy riding when and wherever he can.
Here, he shares his
best tips to keep motivation on top
, as well as a few
technical drills you can do close to home
to become a better rider.
Hi Simon! Tell us a little bit about yourself and where you normally ride?
Hi! I am a 22 years old and I live just south of Stockholm in a town called Trosa. I've always had a passion for mountain bikes, but only started riding properly two years ago, after sustaining a bad back injury from racing motocross.
Trosa isn't directly known for its big hills and Enduro trails - it's really flat - but there is one good spot close to me called
Bergs Gård
with some good trails for both young and old. I tend to go to spots like
Flottsbro, Hagakullen and Norrköping
. This winter I've also ridden a lot on
Kvarntorpshögen
, outside of Kumla, which is one of the best spots I've ridden.
What's your take on everything that's happening in the world of racing at the moment?
This year my focus was on doing good in the European Cup overall, and even though I'm not super goal-oriented - my main aim is to have fun, develop and gain experience - it's been a readjustment for sure.
It's
a strange situation
and I feel like it's the right decision made by racing committees to take it one month at a time to see how things evolve.
No one knows what the future weeks and months will look like.
I've been
training pretty much like normal.
I'm lucky to have a trainer like
Adrian Hörnqvist
coaching me, who makes sure
all my training sessions are of top quality.
As we have some extra time at the moment, we are focusing on becoming even stronger and more powerful.
We are pretty spoilt to still be able to ride and train almost like normal here in Sweden, compared to a lot of other countries, so we just have to k
eep using common sense when we ride and try to be as prepared as we can when the races do start back up again
. Just imagine how good it will be to see all your race buddies again - I think it's well worth the wait!
What are your best tips to stay motivated with your training?
You have to keep reminding yourself why you do what you do. Riding bikes is fun, it's my passion, but I do have couple of fall-back tips to rely on when motivation is low:
1. RIDE WITH FRIENDS
It's always more fun to ride with friends, and we're lucky that we still can! Just make sure to keep groups small, keep your distance and maybe think twice before doing something tricky.
2. FIKA
I have got such a sweet-tooth, and bringing something tasty, preferably home-baked, with me gives me something extra to look forward to every ride.
3. BUILD THINGS
Building new trails is a great way to spend your time, and my tip is to spend some extra time really perfecting some cool features, as it will be so much fun to ride once it's done. It's also good to give older trails some love to make them run better and last longer.
4. ALTERNATIVE TRAINING
I find that alternating my training really helps with motivation. It gets me inspired for each session and makes things fun and fresh. I ride a lot of motocross and MX Enduro - it's awesome and good training for the MTB.
5. TRY THINGS
Make the most out of the extra time we've got and try different things, materials and settings on your bike. Everything from tyre pressure to different grip thickness to what socks are the comfiest. Really geek out on everything.
6. PRACTICE TECHNICAL SKILLS
It's a good time to really practice some basic technical skills that will help you become a better rider and faster racer. Here are two low-risk skills you can practice close to home:
Find a grassy slope with a bit of a gradient. Make some really tight corners and practice leaning your bike as much as you can through them. It's a slow exercise, so it won't hurt if you crash and you get a really good feel for your bike.
Find a good size log and place it on a flat-is surface and practice getting over it. Jump over the log, turn 180 degrees as fast as possible and jump back over it again. Do the same thing over and over, in both directions. When you've nailed that, try changing direction while you are riding to make an 8-shaped pattern.