Mathilde Gremaud just stomped the first-ever female Switch Double Cork 1440
She did it! Check out the moment Swiss freeskier Mathilde Gremaud made history and became the first female to ever land the hugely complex Switch Double Cork 1440, taking the sport to the next level.
You're witnessing history being made.
Mathilde Gremaud
pulled off a freeskiing world first yesterday when she landed a Switch Double Cork 1440 at Swiss ski resort Saas-Fee. No other female freeskier had ever landed the incredibly complex trick before the 20-year-old stomped it on the breathtaking slopes of the Allalin Glacier. Watch the record-breaking moment in the player above.
This thrilling achievement is the fruition of an idea that Gremaud has had on her mind for several months and the 2018 Pyeongchang slopestyle silver medalist prepared for nearly a week using a giant airbag prior to landing it.
Often shortened to a Switch Double Cork 14, the jump consists of four spins (horizontal axis) and two flips (nearly vertical axis), with Gremaud skiing backwards until she takes off from the ramp. The same goes for the landing, which is also done 'switch'.
"I originally thought about this jump early last winter and January was when we really started to talk about doing a world first," said Gremaud. "The greatest challenge was the first flip. Once the first one was done, the second rotation was much easier. I really had to learn both separately and combine them later. The importance of the airbag training is that it actually represents 90 per cent of the work. It helps me to visualise the entire trick, see how things go and be sure that I don't take too many risks on the snow."
Gremaud made her debut on the international scene two years after her first regional competition and broke through with Big Air gold at the 2017 X Games in Norway, before adding the Olympic silver medal and another brilliant gold in Big Air at the 2019 X Games in Aspen.
Get to know a little bit more about Mathilde Gremaud in the video below: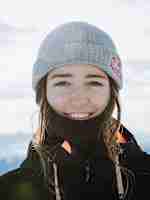 Getting to know the athletes