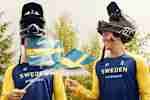 BIG QUIZ: Do you know what happened in Swedish MTB 2020?
© Marcus Ahlström
The ultimate end-of-year quiz for all bike fans!
2020 has definitely thrown a couple of curveballs but luckily for us MTB fans, wheels have kept on turning, world cups have been raced and more videos than ever have been released on the world wide web. Swedes have been seen roaming forests at home as well as making noise on the international race scene. But, how closely have you actually been following the scene? It's time to find out with our big end-of-year MTB quiz.
Need to refresh your memory? Check out some of these articles and videos:
Sound of Speed with Martin Söderström and Emil Johansson:
Swede Shreds goes searching for Sweden's best riding:
Emil Johansson talks us through what goes on in his head during a competition run:
The Swedish Enduro scene makes a mark:
Ride with the Swedes Season finale in one of the sickest backyards ever:
All the edits from Åre Video Challange 2020: