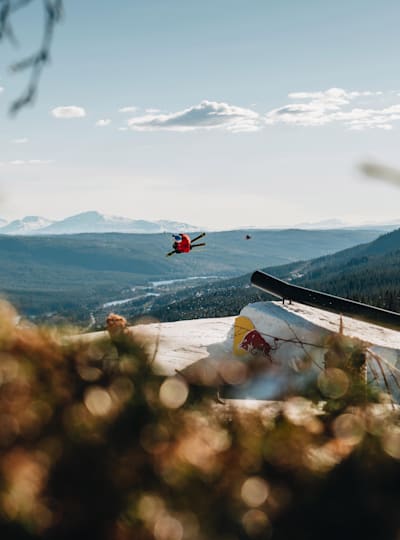 © Adam Klingeteg/Red Bull Content Pool
From sketchbook drawings to futuristic park: this is Unrailistic
From vision to dream park, from state-of-the-art ski edit to progressive ski competition. This is the story of how Unrailistic came about and how Jesper Tjäder took rail skiing into the future.
When the first
Unrailistic
edit was released in 2015 it was nothing short of revolutionary. Born from
Jesper Tjäder's
desire to push his own limits as well as the sport itself, he created a dream park full of never-before-seen rail features. The edit went viral and blew minds across the globe. Four years later he released
Unrailistic 2.0
once again pushing the sport, and particularly rail skiing, beyond what anyone thought possible. Wanting to take it to the next step, in 2021 Tjäder invited his friends to shred a custom-built park inspired by his previous edits.
Eight years since the first edit dropped, Unrailistic is still very much at the forefront of rail skiing and its concept continues to evolve and push the sport forward. 2023 will see the first-ever
Red Bull Unrailistic
competition go down, where the world's best park skiers will take on a custom-built course inspired by Tjäder's Unrailistic edits.
Here's the story of how Unrailistic went from drawings in Jesper Tjäder's notebook to becoming some of the most famous and progressive features in the world of Slopestyle skiing.
01
The creation of Unrailistic
Back in 2015, Tjäder was one of the big names in the Slopestyle world and often found himself on top of podiums at contests. But there was always this thought he couldn't get out of his head. That competitive skiing had become all about jumps. Rail features were almost regarded as fillers that most skiers "threw something easy on just to clear".
Tjäder wanted rails to be bigger, more creative and for them to get more attention. He explains: "I'd been waiting a long time for someone to get creative with rail features. It seemed like such a natural progression for the sport. But nobody did and I got tired of waiting".
Taking matters into his own hands, he started putting his ideas to paper. He drew plenty of new types of tricks and features that he wanted to make happen in his notebook, many of which seemed extremely unrealistic. But that's the thing with Tjäder, he strives of making the impossible possible. To turn unrealistic into unrailistic.
"It is one thing to create a sketch in a notebook. It's a whole other to make it happen in the real world. What's the ideal angle for flipping and landing a double on rails? Who knows, really?".
Nothing like this had been done before, and it took Tjäder and his crew six weeks to go from sketches on a paper to a real life dream park. Yet, they made it happen. Finally, the first ever Unrailistic park stood finished, including custom rails and features that had never ever been seen in park skiing before. "These are features that could change how we ride. I really hope that this project can lead to a new generation of park features, and that it open people's eyes", Tjäder said at the time. Little did he know how right he would be.

3 min
Jesper Tjäder's Unrailistic edit
Watch Jesper Tjäder redefine what's possible on rails in this mind-blowing ski edit.
When the first edit dropped it went viral. Tjäder had created a totally fresh and creative take on rail skiing. Critics praised his innovative take mixing technical tricks on traditional park obstacles with completely original features such as a trampoline and a trapeze swing. Unrailistic established the young Swedish skier as the sport's greatest innovator.
02
Unrailistic 2.0 continues to push boundaries
One edit wasn't enough to cover Tjäder's vision. And now, he'd got a taste of the future. So, in 2019 he released Unrailistic 2.0, an edit that was even more technical and progressive the the first.
It's like Tjäder has creativity on tap. Turn it on and out flows the most insane ideas. "I'm thinking of new tricks all the time", Tjäder explains, "I always write them down, start to visual the features, do a sketch and then hopefully it works out in real life". He makes it sound and look so easy. But don't be fooled, most tricks in Unrailistic 2.0 had never ever been done before and some took over 100 attempts to land.

3 min
Unrailistic 2.0
This year freeski ace Jesper Tjäder is back with new trick ideas and creative, never-before-seen features.
Take the Triple-S to triple-kink rail combo for example. Tjäder makes it look like a walk in the park, but
watch the behind-the-scenes edit
and you realise it's an insanely difficult combination that took him 118 attempts to complete. The days on end attempting new tricks is something Tjäder strives off: "It's a nice change to try something 100 times. In a contest you only have two tries, so it's nice to do stuff where you can actually put some time into it".
With tricks like the Body Slide to Spin Out, obstacles like the Double Handplant and combinations like the 450° onto an eight kink rail, Unrailistic 2.0 succeeded in once again raising the bar within the sport. Critics said it was light years ahead of its time.
People need to do new stuff to keep the sport progressing. The tripple S I don't know any skier who wouldn't want to try that.
03
Tjäder invites his friends to shred his park
After two viral edits, how do you take the concept of Unrailistic to the next level? For Tjäder it was always pretty clear that he wanted involved more people, and in 2021 he had the opportunity to invite some of his friends for a big park session on some of his most famous and fun features.
"Ever since I did the first Unrailistic edit, I've had this vision of bringing friends over to shred the same features I've been battling with", Tjäder explains. "I mean, I don't know any skier who wouldn't want to try the Tripple S rail".
Said and done, some of the best skiers gathered for a couple of days shredding in the custom-build park. It wasn't a competition, there were no rules or jury. It was just some of the best park skiers in the world testing the boundaries of progression. Behind the scenes, it was also a way to assess if the concept could evolve into something bigger. Judging by the stoke levels of the skiers that week, it was time to bring Unrailistic to the masses.
04
Red Bull Unrailistic takes progressive rail skiing to the masses
Eight years since the first edit dropped, the concept of Unrailistic entered a new era. 2023 will see the first ever Red Bull Unrailistic competition go down, where the world's best park skiers will take on a custom-built course inspired by Tjäder's Unrailistic edits, as well as his notorious
Loop rail
and
world record rail grind
.
It it set to be a thrilling experience for skiers and spectators alike, as the specially invited skiers battle it out in a two-part format for the opportunity to be crowned the first-ever Unrailistic Champion. The athletes will compete in a Best Trick event followed by full runs on the Unrailistic course. Whoever has the best overall score takes the win.
The competition will go down in Tjäder's hometown of Åre, Sweden at the end of April because, to put in Tjäder's own words, who doesn't like to try new things, in a sick park, in slushy spring conditions? It doesn't get better than that.
Looking back it's pretty clear that what Tjäder did with his first Unrailistic edit was a lot more than just catching cool tricks on camera. He laid the foundations for what progressive park skiing would look like in the future. Unrailistic has become a vision for progression and a celebration of imagination and innovation in skiing. Entering this new and exciting era, Unrailistic is bound to have an impact on plenty of future generation of skiers.