Join in on the fun and be a part of the Red Bull Gaming community on
Facebook
🔥
Red Bull Solo Q
is happening right now. From September 3 - September 25, the qualifiers for the Swedish Finals are being played every Friday and Saturday. If previous year's are anything to go by, we know that the action is fierce and competition tough - so, the winner of a qualifier is going to be a pretty badass 1v1 player. So far, we've seen some veterans fall, and new talent rise. With Solo Q, anything can happen.
If you haven't signed up yet
, there's plenty of chances still!
You can find the complete ruleset
HERE
📖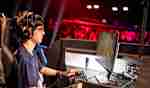 Qualifier 1

- 🔥 Elias '

Tjockpung

' Suomalainen

Qualifier 2

- 🔥 Kim '

Noodle

' Kroon

Qualifier 3

- 🔥 '

Potatismjöl

'

Qualifier 4

- 🔥 Erik '

Ziviz

' Lövgren
Two new finalists will be qualified after each weekend. One from each qualifier. We believe that it's important to get to know our talented finalists, the best 1v1 League of Legends players in Sweden, so we've asked them a couple of quick-fire questions about their favorite game. Here they are, enjoy! 👇
If you had to pick one Champion for the entire competition, which one would it be?

Biggest esports achievement?

Dream opponent to duel 1v1?

If I was a known League of Legends Superstar, I would be...
01
Elias 'Tjockpung' Suomalainen
Yasuo, was a onetrick for 4/5 years.

I don't really have a lot of esports achievements so I guess it'd be winning LCSE, or qualifying for this 😝.

Probably Bjergsen, since I've been a big fan of him for the longest time.

Bjergsen. I've always looked up to Bjergsen, although it's sad he stepped down as a midlaner.
Lee Sin, because it's broken.

Cassiopeia, just good into a lot of stuff and easy to cs with.

Winning dutch league first split as a jungler.

Chovy, to see how hard I'd get annihilated in lane.

Favourite team is definitely Rogue. Hans Sama + Inspired is too good.
Kha'Zix, I used to one trick him the first time I got to high Elo.

Hard to pick one champion, I am looking to learn as many champions as possible to be flexible in my games. If I had to pick one it would probably be Fiora.

Winning Telia masters with my team Lanomania last month.

I have practiced a ton of 1v1s with my cousin Creptine and the dream would be to duel against him in the [Solo Q] finals.

Lanomania, the team I am playing in!

Known as the player who could play all roles and probably also known as an inter.
Favorite champion has to be Orianna. Such a well rounded champion with a fantastic design. Has also been balanced in both Solo Q and competitive games since she got released. Perfection.

Probably Orianna. She can do well into all different kinds of champions and she scales really well into the later stages of the game.

Winning Red Bull Solo Q twice in Sweden, and then winning the world finals once and getting top 4 the second time has to be among the biggest things I've achieved in my career. Then there's some LANs in UK and a few trophies in Sweden that also comes to mind, most notably the Swedish Championship which we won with Lemondogs back in 2014.

It has to be Dopa. He's on another level when it comes to understanding the game. Would be superfun to play versus him!

I've always been a fan of Cloud 9, since they aquired the Quantic Gaming roster back in april 2013. Other than that I like watching Rouge and Larssen. I've played with and against him multiple times and I consider him a friend, so it's always fun to see him do well!

I'd probably say Dopa. He's way better at Solo Q than I have ever been, but I do believe we approach the game in similar ways, and we both like playing Orianna and Twisted Fate.
More finalists will pop up as we progress in the competition, so stay tuned! 🔥
Join in on the fun and be a part of the Red Bull Gaming community 👇