The 5 stages you go through when your bike holiday rains away
Martin Söderström and Simon Johansson head out to Chatel Bike Park in the 4th episode of Ride With the Swedes.
With
Emil Johansson
away in Canada living his best life,
Martin Söderström
gets itchy at home and convinces his old friend and super shredder
Simon Johansson
to come with him to the
Red Bull jam in Chatel, France
. However, the week doesn't turn out exactly how the crew had planned it. Instead of sunshine and beach swims, Chatel is under a constant cloud of heavy rain.
Martin and Simon fight to keep motivation high as they go through the "5 stages of acceptance" as they watch their riding week rain away.
Hit play and watch the latest episode and keep reading to find out what exactly those stages are.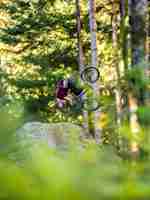 The 5 stages of accepting rain on your bike holiday*
*as experienced by Martin and Simon.
1. The state of nativity
"It might not be so bad."
Maybe you've checked the weather forecast before heading out or maybe the rain has just started pouring down as you close in on your one-week bike holiday destination. Whichever one it is, you decide to igore the pouring rain and naively think that the weather forecast is wrong and that it's not going to be as bad as predicted. It will probably just be a few light showers in the night...
Hopefully this (rain) is just for a bit, and as soon as we bring out the bikes the weather is going to be perfect.
2. The state of realisation
You've made it to your destination and the rain keeps pouring down like it's some kind of doomsday and there absolutely no blue skies in sight. It's starting to sink in that your sunny, dusty riding holiday might turn out to be as wet and muddy as a normal grey autumn day at home.
We don't need to unpack the bikes, we can just keep them in the bags and go back home…
3. The state of depression
You head out to try and do something fun, but the jumps are too wet and the jam is canceled. You hit up the local beach, but it's more like a square meter of sharp rocks. You hit rock bottom and spend the next two days in bed, watching people and cars go by. Life is dark.
4. The state of acceptance
"I don't care if it's raining, I'm going out anyway!".
Okay, so your holiday is raining away - what can you do about it? Sit and cry or go out and have some fun. You've accepted that the weather situation is the way it is and you've come to the conclusion that its way better to go shred some mud than sit inside for another minute of your holiday. So you gear up, grab your bike and go hit up the bike park. Weather is just a mindset.
No come on Martin, let's do something. I can't sit here any longer!
The state of hope.
"Things will get better".
You've accepted the weather and you slowly start to regain the notion of hope. Maybe there will be sunshine for at least one day of your holiday?
And just like that, the heavy rain clouds start to disperse and the sun slowly starts to dry up the mountainsides. The great thing about it? You feel like you've won the lottery.
We might even have to wear sun screen today!
Finished watching the episode and reading this article? Then it's time to go out and enjoy your bike no matter what the weather is!