Witness Spencer Brown's buttery manual skills at Stalin Square
© Mark Nickels
Baltimore's crisp technician makes hay while the sun shines on his first European pilgrimage!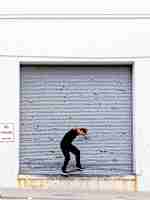 Spencer Brown has manual skills for miles
Be sure to download the free Red Bull TV app and catch Skate action on all your devices!
Get the app here
Hopefully you will by now recall
Spencer Brown
, one of the shining lights of the
Baltimore skate scene
which we have been delighted to showcase, somewhat, for you recently.
For American skaters lucky enough to get the opportunity, a first European skate trip is a right of passage. In years gone past, the summer contest circuit provided a sort of caravan which allowed American skaters the opportunity to experience the smallest but most culturally diverse continent in the world.
For a generation raised on street skating, though, it was more likely to be those 'summer in Europe' edits in venerable video magazine 411 which crystallised the romanticism of endless evenings bathed in slanted sunlight, dialling in tricks at the great plaza spots like Stalin Square, sat high and bust-free as she does, above
the jewel of a city which is Prague
.
Spencer's first European jaunt saw him touch down in the
Czech Republic
long enough to introduce his wild balance skills to the split-level ledges of the legendary spot, and particularly the drop-down part of this spicy manual combo is a genuine WTF. Truly insane balance. How do you practice that?