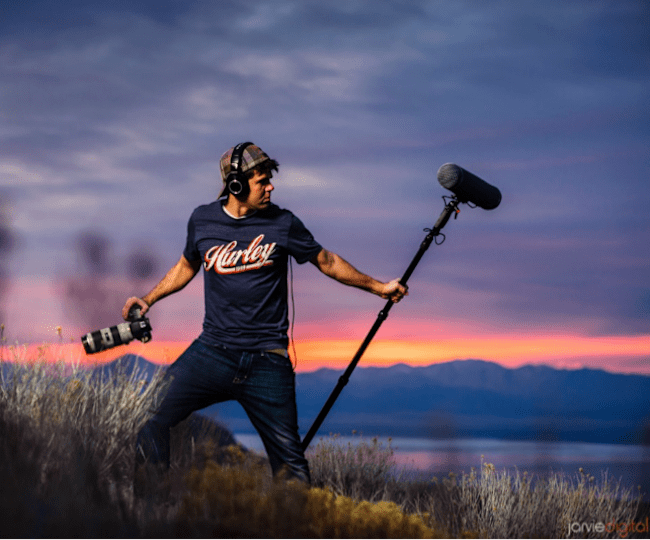 © Adobe
5 Adventure Youtubers You Should Be Watching
Go on these heart-stopping adventures from the comfort of your screen.
The annual
Red Bull Can You Make It?
adventure sees teams jet-setting all over the world for an epic trading escapade. But for some lucky people, the high of travelling to new places, making new friends and creating new memories never wears off. These are the people who not only get the opportunity to partake in these experiences, but also get paid for sharing their daily lives on the road with a community of wanderlust souls. These are the Youtube vloggers whose adventures are shoved in our faces as highlight reels featuring endless majestic locations, fearless stunts, and adventurous friends. From meticulously produced 4K films to GoPro mounts and selfie vlogs, we are in an epoch of vicarious living and armchair travelling. What a time to be alive! Here are some of the five Youtube stars whose (almost) daily updates spark that adrenaline rush of a thrill – or at least inspire you to get off that couch.
What is it like to make every day an adventure worth capturing on film and shared for 1.7 million followers and counting? Just ask Louis Cole of the
FunForLouis
channel, who has been called the Godfather of Daily Vlogging by fellow Youtuber Casey Neistat Since starting out in 2012, he has perfected the art of daily vlogging that skims through a day's worth of footage with funky upbeat music and quick cuts. When he talks directly to the camera in unscripted reflective moments, or takes you on a ride
cruising on a penny board along the Sydney Harbour
or
flying in a hot air balloon safari over Masai Mara in Kenya
, it feels as if you're right there with him. In his mission to discover the world, he uses his influence to inspire wonder and enthusiasm as he encourages the pursuit of big dreams while living his own. He has also teamed up with Dave Erasmus on collaborations to share stories of
entrepreneurs creating waste-to-energy start-ups in Addis Abada, Ethiopia
. Recently, he hit the milestone of 1000 vlogs, making his collection of videos from travelling every continent except Antarctica, 360 experience videos and collabs an extensively-curated channel perfect for binge-watching.
Devin Graham
's videos are arresting. Pumped full of thrilling stunts, action flick-grade slow-motion choreographed moves and drone shots above vibrant backdrops, they are a visual treat in less than five minutes. Unlike the other vloggers in this list, Devin is a professional videographer and storyteller, working the camera with steady hands and fast sprinting to keep up with parkouring free runners and crafting costumed shoots in wildly scenic locations. Don't even think about watching these videos in quality less than 4K – they deserve every pixel you've got. Check out the behind the scenes videos on Devin's side channel,
devingraham
, for some of his quirky personality in these gruelling shoots.
Before
Ben Brown
became a travel photographer and filmmaker, he was an athlete with the British Flat Water Kayak team, which took the title of World Champion twice. His thirst for extreme sports has diffused into his vlogs, where he talks about the very real challenges of seeking a thrill – the fatigue and the exhaustion along with the high. In his recent trip to Thailand, he
rode a motorcycle with Kurt Yaeger
, the BMX rider whose amputation recovery story was chronicled in
Rudimental's music video for Waiting All Night
. Besides the incredible experiences of jetting from place to place, he has also taken the time to talk about ethical issues like
veganism
and
stopping rhino horn poaching in South Africa
. But Ben Brown's best skills are visible in his great sense of aesthetics, which are best portrayed in his Visual Vibes series of cinematic captures.
High On Life
is a group of friends – Ryker, Parker, Alexey and Josh – who embarked on an interactive road trip, the Great American Road Trip, in February this year. As the name of this series suggests, they are on a road trip in a tour RV (punnily named Trailer Swift) across North America, with their itinerary and activities each day determined by poll results cast by viewers. While there are the truly stunning shots from Horseshoe Bend and Antelope Cannyon, crazy walks on the wild side at the Corona Arch Swing, High On Life's vlogs are far more than the typical backpacker tourist perspective. But don't mistake these guys for privileged, culturally insensitive degenerates – their vlogs show them pitching in to fix up their RV,
addressing mean comments on their videos
, and meeting up with fans as friends along the way. Free-spirited folks who get to travel with their friends every day, basking in the most of what the world has to offer, as their job? Haters can move to the left.
Alex and Marko Ayling
take a people-focused approach to their travels as a dynamic duo with equal parts curiosity and energy – vagabonds and brothers. Their content is inspirational and enriching, almost like a cultural exchange in a few minutes. At each new location, the brothers give a little history and geography spiel as they take part in a unique exciting activity –
learning capoeira in Brazil
, collecting seaweed while kayaking for a sustainable meal in West Cork, Ireland... While their channel is less frequently updated, each video is not just a mindless narration of their vacation but a truly immersive experience of diverse people, food and cultures at a local scale.