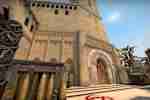 Are you a Mirage master? Take our latest CS:GO quiz and prove it
© Valve
It's time to test your Counter-Strike:Global Offensive map knowledge again, this time on Mirage. Take the quiz to find out how well you really know it.
For long time Counter-Strike players, Mirage is a cult classic map. It's one of the staple maps, but wasn't even made by Valve. It's been around for a long time, though and has seen multiple versions across all of the Counter-Strike games.
While Mirage was added later to CS:GO, following on from the addition of Dust 2 and Train, it's still one of the most played maps in the game. It's been in the Active Duty map group for quite some time now and all indicators show that it's going to stay that there for a long time. Players love the map; it's layout promotes tactical play and a lot of different areas, and while the map is slightly CT favoured that doesn't mean that the Ts don't have a chance.
Have you played countless rounds of Mirage? Think you know it better than any other map in the franchise have what it takes to ace our test? Test your knowledge in our latest CS:GO map quiz below.