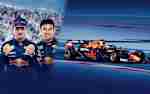 Red Bull Racing Trivia - Singapore 2021

Singapore, Singapore
🚨 Attention Singapore 🚨
We might not be racing at the Marina Bay Street Circuit this year, but we are still bringing Red Bull Racing to you - test your Red Bull Racing knowledge here and you might just win some Red Bull Racing merchandise and maybe even the grand prize:
Autographs from Max Verstappen and Sergio Pérez!
All you will need to do is buy a can of Red Bull and play the trivia below, it's that simple!
Step 1: Buy a can of Red Bull Energy Drink or Red Bull Sugarfree from any participating stores in Singapore.
Step 2: Snap a picture of your receipt.
Step 3: Play the trivia below.
Step 4: Submit your results and the picture of your receipt.
*Only purchases and entries during the promotional period (1-28 September 2021) will be considered valid. Purchases and entries before and after the promotional period will be considered invalid.