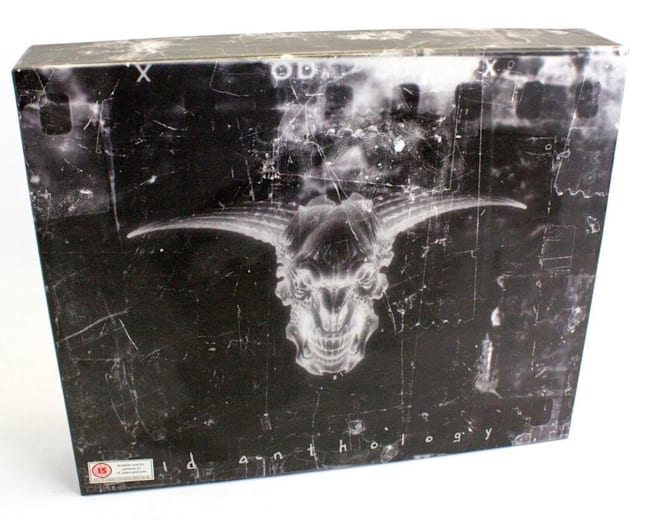 8 rare PC games that are now worth a fortune
© ID
Got any of these in your collection? You could be sitting on a lot of money!
While there are plenty of rare Nintendo, PlayStation and Xbox games, the world of PC gaming has fewer holy grails.
There's a number of reasons for this. For one, it's usually a bit of a palaver to get old DOS and Windows 95 games running on modern systems, so many of them (especially the ones on floppy disks) are pretty low in demand. On top of this, the ones that are in demand are usually patched to work on today's PCs and are now being resold digitally on services like Steam and GOG, making the boxed originals less appealing and convenient.
Despite this, though, there are still a few PC games that are highly valued by collectors. It's time to raid the attic, because if you've got any of these in your gaming library you could be sitting on a tidy little eBay profit.
Space Quest series
Back in the mid-80s, Washington-based publisher Sierra On-Line became well known for its brilliant line-up of point-and-click adventure games. The likes of Hero Quest, Police Quest and (the slightly dodgier) Leisure Suit Larry helped cement Sierra's status as one of the best publishers for PC adventuring. One of the most popular series was Space Quest, which spanned six games and had players controlling a janitor called Roger Wilco as he explored outer space. If you still have the original boxed games they can go for a tidy sum these days, especially the first few. Recently the first three games sold online for around $280 combined.
id Anthology
id Software was one of the most important PC developers of the 90s, thanks to its work on two massively influential games: Doom and Quake. A box containing both games would've been impressive enough, but id Anthology included a grand total of 19 games including not only Doom, Doom II and Quake, but other older id-developed titles like Wolfenstein 3D and the Commander Keen games. Since it was limited to only 10,000 copies and included a bunch of extra stuff like a book about the history of id, some dog tags and a t-shirt, mint condition copies of this box can sell for up to $400.
Fallout 2
Sometimes, games that are still widely available digitally are still worth a lot of money in their physical form - despite being harder to run on modern PCs. That's certainly the case with Fallout 2, with copies of the original 1998 release still selling for an eye-watering $400 online even though you can buy it from Steam and GOG. The reason for Fallout 2 being the same price as a short holiday, is partly because Fallout's fanbase has grown over the years but also because the boxed version of the game came with the Vault-Tec Lab Journal. This sought-after 164-page book is designed to look like a notepad and is packed to the brim with juicy info about the game's lore.
Mortal Kombat & Mortal Kombat II
Collectors can be a dedicated bunch. Sometimes they'll want a copy of a game even though they already own a bunch of different versions of it, just so that they can claim to have every possible one. That's presumably the reason why Mortal Kombat & Mortal Kombat II fetch such a high price online. Publisher Acclaim bundled both games into a single box for PC gamers – a decent deal considering both were praised for how accurate they were to the arcade versions. Despite the terrible live action movie, Mortal Kombat still has a bunch of dedicated fans, which is why a sealed copy recently sold for $500.
Advanced Dungeons & Dragons: Neverwinter Nights
Not to be confused with the 2002 Bioware game (which isn't really that rare at all), the first Neverwinter Knights was released way back in 1991 for MS-DOS PCs. It was the first ever online RPG to have actual graphics. Despite being a technical marvel, not that many gamers played it online at first: as back then online gaming was so niche that the Neverwinter Nights servers could initially only handle 50 players at a time.
This grew to around 2000 players over the years, until in 1997 the game's beloved servers were tragically culled. If you're curious to see what all the fuss was about, the good news is that it can still be played offline. Thanks to the strength of the D&D name, however, you're probably looking it forking around $525 or a mint condition copy today. That's a pretty hefty price to satisfy your gaming curiosity!
Ultima Series
Much like the Dungeons & Dragons games, the Ultima series was massive among PC gamers at the time. Although the first three games haven't really aged well, everything from Ultima IV onwards remains hugely playable decades later. Even though it's easy enough to get hold of the games from the likes of GOG, the boxed versions came with cloth maps and trinkets, like special coins and Ankhs. If you can find a good condition boxed copy with its trinkets intact, it's big money time. Recently an eBay auction which included Ultima 4-8 and all their trinkets sold for $1200.
Zak McKracken and the Alien Mindbenders
Sorry Sierra, but LucasArts made the best point-and-click adventures of the '80s and '90s. While many of them – Monkey Island, Sam & Max, Maniac Mansion and the like – were re-released on various formats over the years, others like Loom and The Dig remained relegated to the past, making them increasingly valuable to collectors. One of the most notable is 1988's Zak McKracken, a hilarious game in which a dodgy reporter for a sleazy gossip rag uncovers an alien plot to reduce the world's IQ. While it was finally made available again on GOG in 2015, as one of the best and rarest LucasArts games it's worth a small fortune. Get your hands on a sealed original copy and you could be looking at over $3000.
World Of Warcraft: Collector's Edition
When World Of Warcraft was released back in 2004 it came in two versions: the normal release and the Collector's Edition. This $80 set included the full game on both CD-ROM and DVD-ROM, a behind-the-scenes DVD, a 280-page art book, a soundtrack CD, a cloth map with a metal clasp and an exclusive in-game pet. Safe to say, it was a pretty definitive package, and as World Of Warcraft's popularity skyrocketed so too did the Collector's Edition's value. These days a used box can go for around $750 but collectors are a picky bunch, and if you somehow still have a sealed one you're in the money: one recently sold for $4300.